Finnish Postmarks
Early Railway postmarks


The first Finnish Railway service began in 1862 with the opening of the Helsinki - Hämmeelinna line.
On 1st of November 1870 the first travelling post office came in action between Helsinki and Wiborg,
and one month later route was extended to St. Petersburg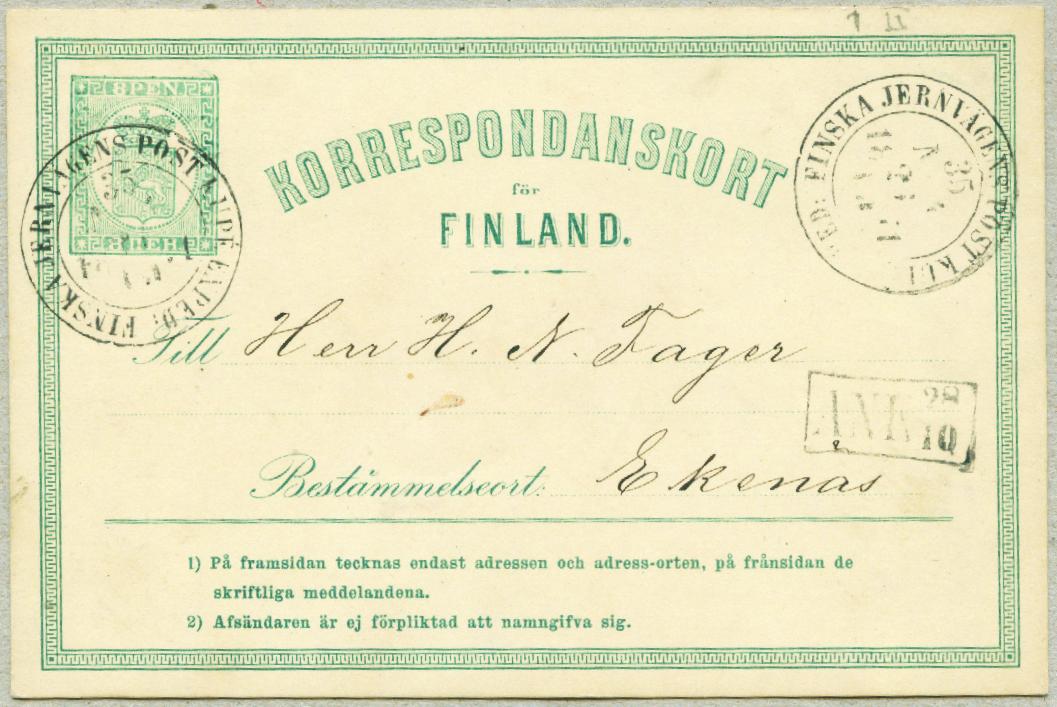 FINSKA JERNVÄGENS POST KUPÉ EXPED: 35 No 1 25.10.1871
The very first Finnish TPO postmark with letters in Antiqua-style. Period of used November 1870 to June 1875. Station number 35 = Helsinki. Postcard sent from Helsinki 25th October 1871 to Ekenäs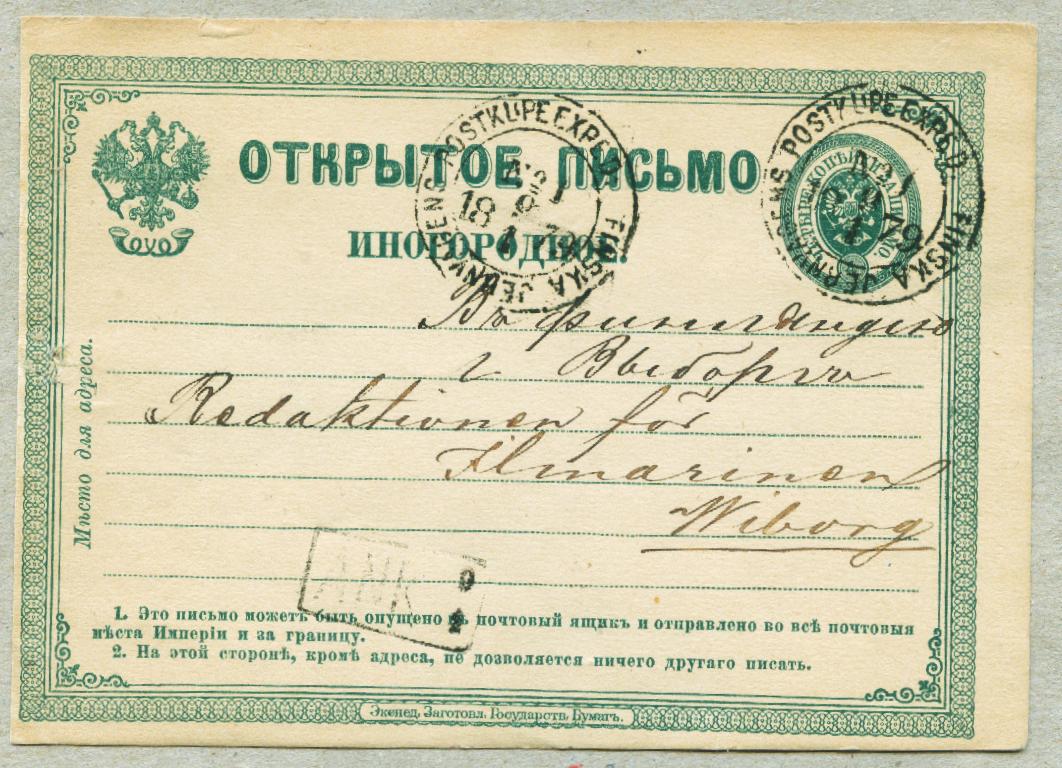 FINSKA JERNVÄGENS POST KUPÉ EXPED: No 1 9.1.1879
Letters in new style. Period of used November 1875 to 1982. Russian 4 kop postal stationary sent from St. Petersburg to Wiborg in January 1879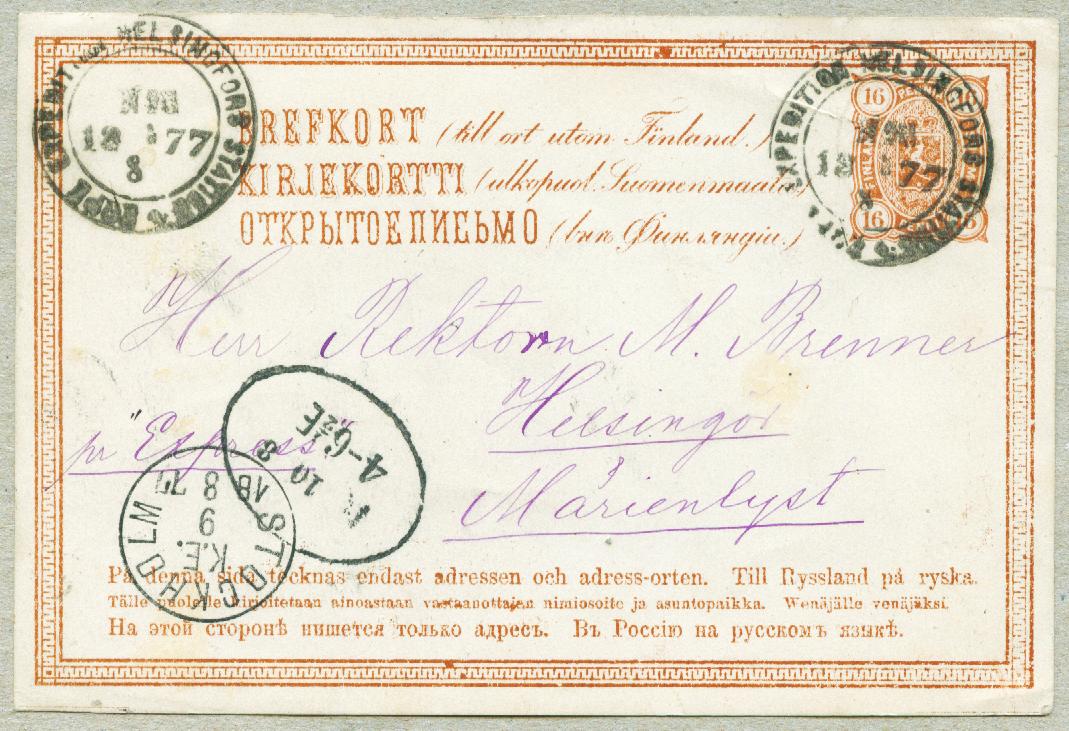 KUPE EKSPEDITION HELSINGFORS STATION No 5 7.8.1877
The travelling postoffice wagon No 5 was used on various routes as reserve wagon and in the Helsinki Station Postoffice. Period of use 1876 - 1887

16 pen postcard sent from Helsinki via the Hangö steamer "EXPRESS" to Stockholm 9.8.1877 Copenhagen K 10.8 4-6½ and on reverse HELSINGØR 10.8

"Finska Transito-Ångbåtsbolaget" was established in spring of 1876. The first vessel the company bought was the paddle steamer SVITHOID build in 1873 by J&W Dudgeons, London. The steamer was renaimed EXPRESS and sailed Hangö - Stockholm - Hangö. Already in December 1877 EXPRESS was substituted by newbuilt EXPRESS II, due to the steamers not capable of operating in ice. EXPRESS II, which was first Finnish ice-breaking steamer, was renaimed EXPRESS in 1878 and sailed the route until 1898.





"FINSKA JERNVÄGENS FINSKA KUPÉ POSTEKSPEDEDITION"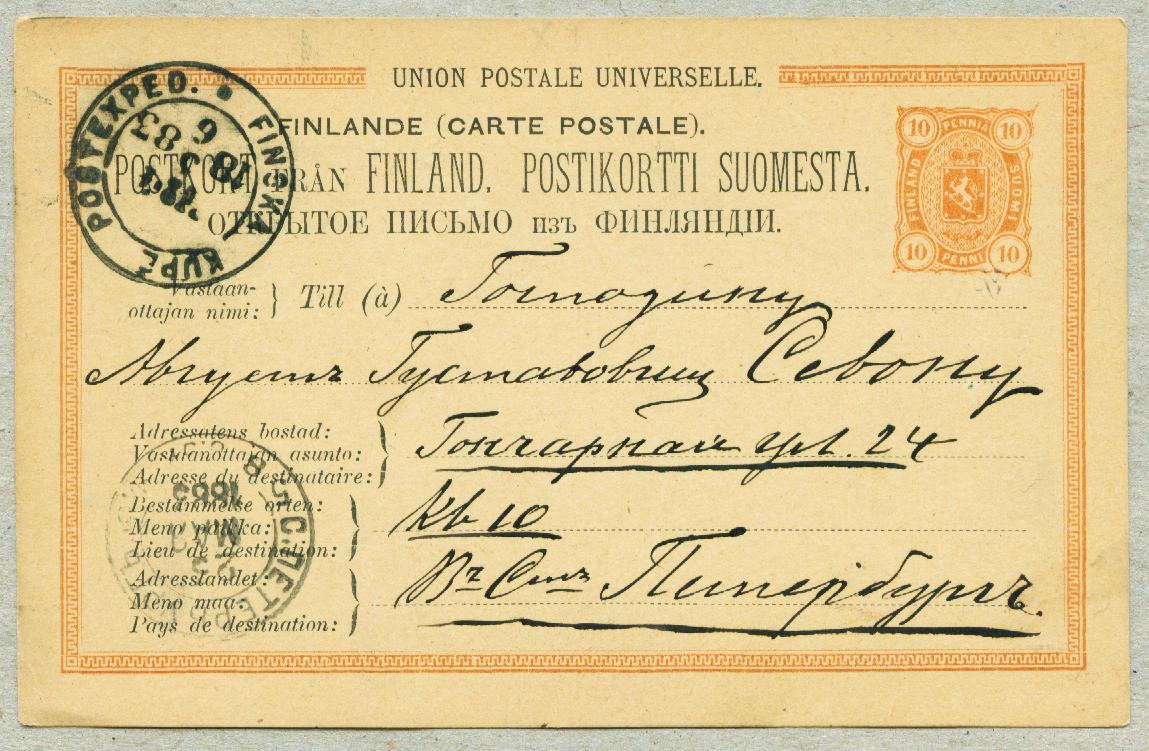 "FINSKA KUPÉ POSTEKSPED. No 4 3.6.1883"
No 4 in the postmark indicates the route number and the station number "24" is stamped under the imprinted stamp
Card is sent from Ku.. to St. Petersburg, arrival postmark 23th May 1883 (Julian calender)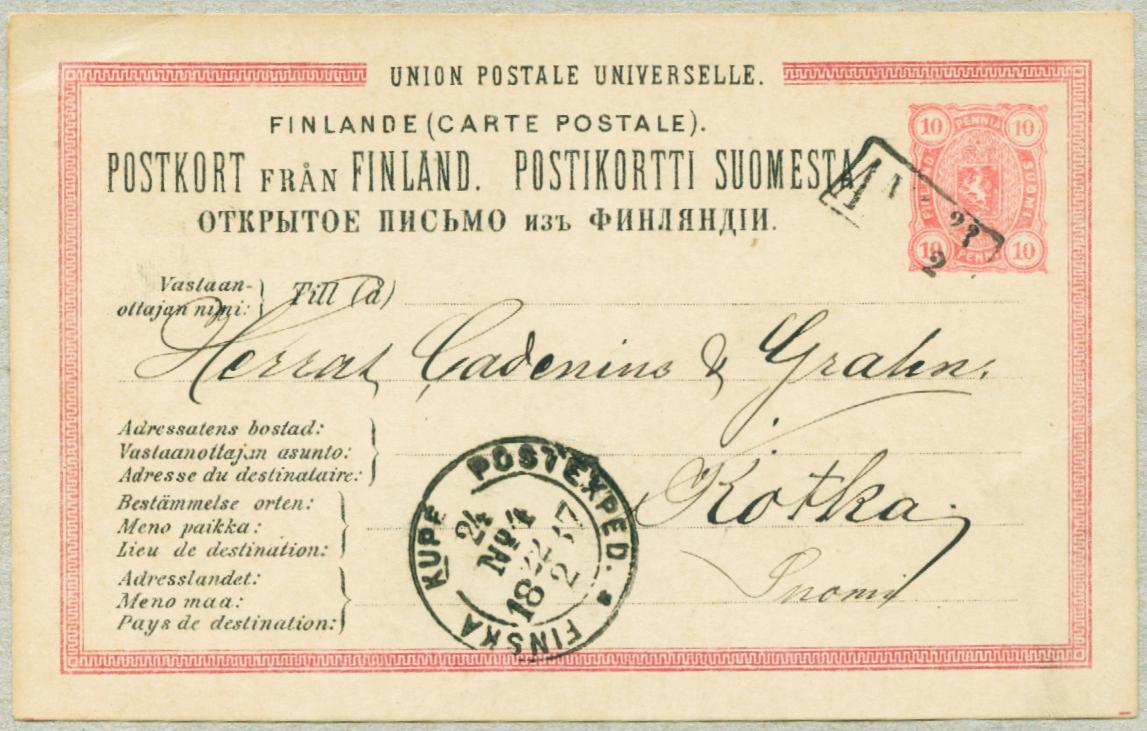 "FINSKA KUPÉ POSTEKSPED. 24 No 4 22.2.1887"
Postcard sent to Kotka postmark, route and station same as card above, only now the station number "24" is included in the postmark