Hangö - Stockholm
s/s EXPRESS


"Finska Transito-Ångbåtsbolaget" was established in the spring of 1876

The first vessel the company bought was the paddle steamer SVITHOID built in 1873 by J&W Dudgeons, London. Dimensions: 58,20 x 7,30 x 4,00 m. Brt/ Dwt. 650/ 400. The steamer was renamed EXPRESS and sailed Hangö - Stockholm - Hangö.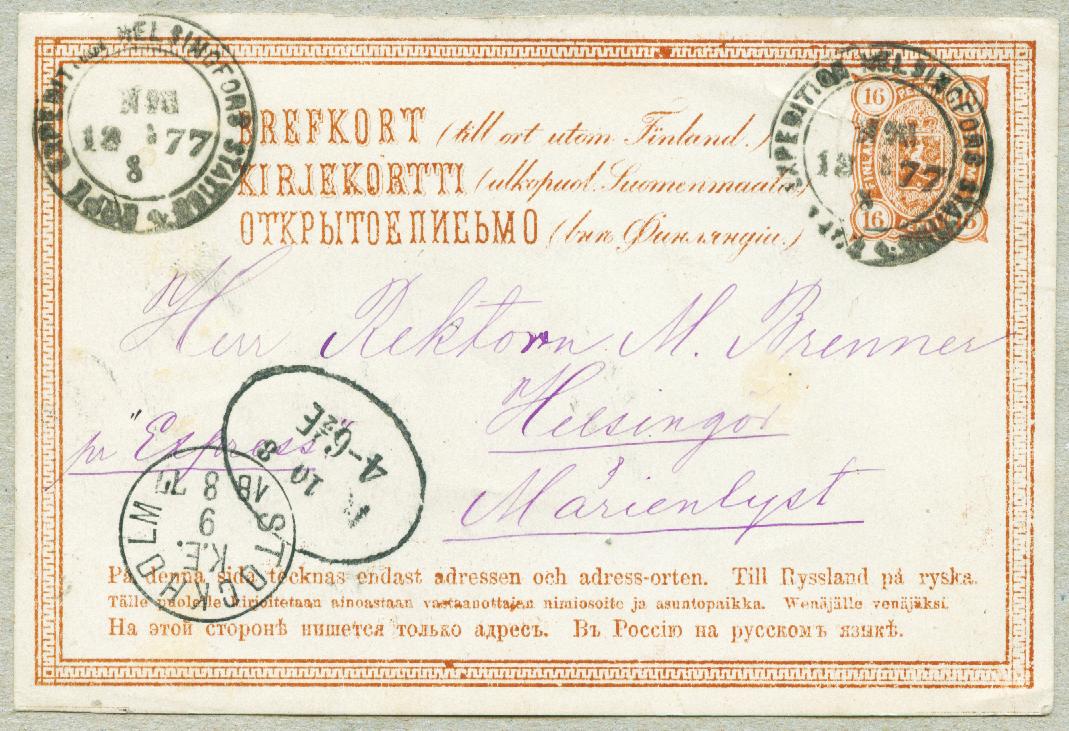 16 pen postcard sent from Helsinki via the Hangö steamer "EXPRESS" to Stockholm 9.8.1877 Copenhagen K 10.8 4-6½ and on reverse HELSINGØR 10.8

Extremly rare postmark used a few month of 1876 with the text "FINSKA ÅNGB. POSTEXPEDITION" The postmark was used onboard "EXPRESS" ... and not from my collection!


Already in December 1877 EXPRESS was substituted by the newbuilt EXPRESS II, due to the steamer not being capable to operate in ice. The first EXPRESS was sold to Sweden where it sailed until 1914 when the vessel sank close to Stockholm.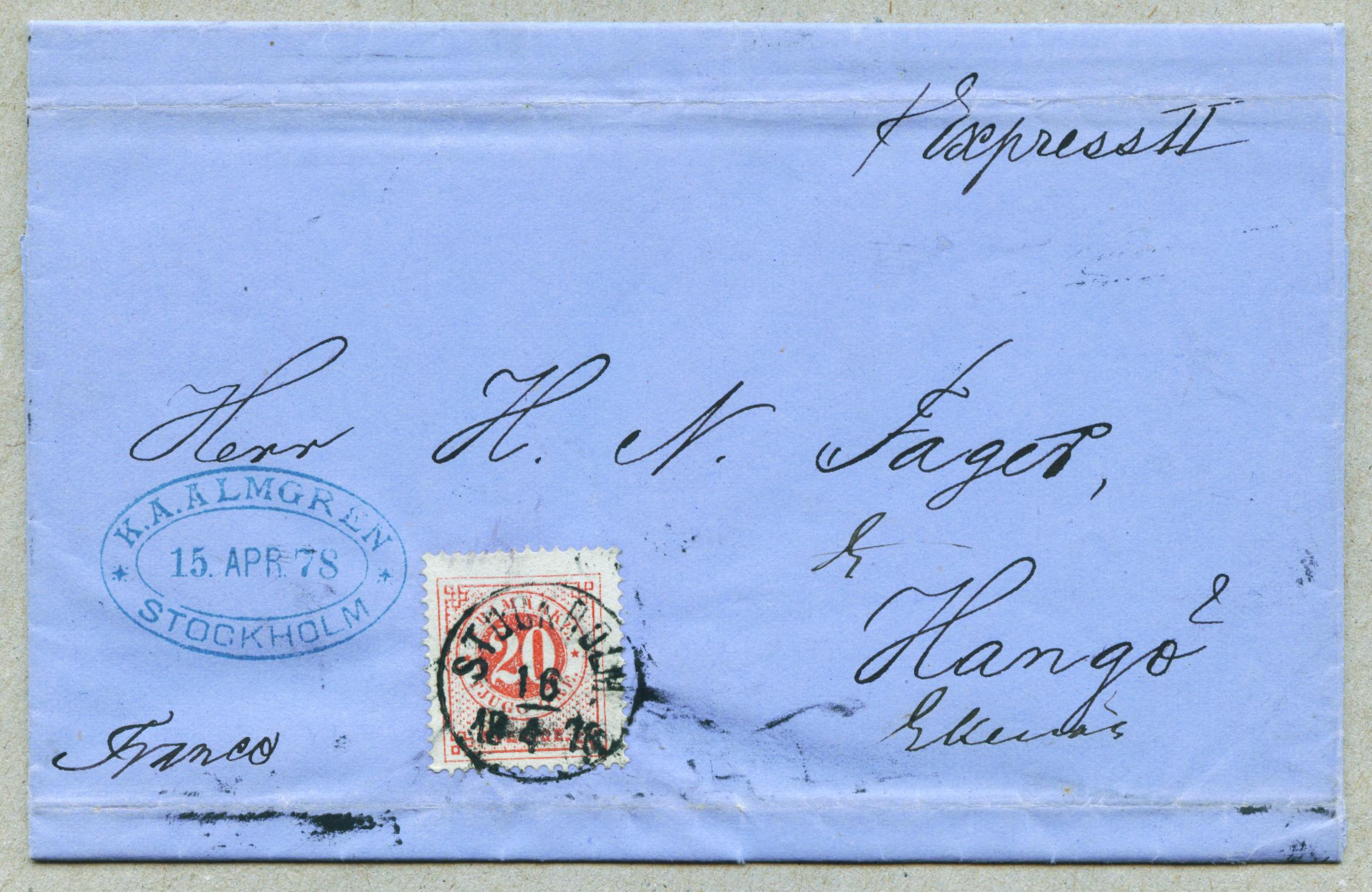 Cover from Stockholm 15. April 1878 to Ekenäs via Hangö. Endorsement "EXPRESS II"


EXPRESS II was the first Finnish ice-breaking steamer and was built with financial help from both the Finnish and the Swedish Government. It was built at Oskarshamn, Sweden and was designed by Robert Runeberg (son of Johan Ludvig Runeberg).
Dimensions: 42,4 x 6,85 x 3,5 m. Brt 445 tons.


FTÅ went bankrupt in November 1878. Carl Korsman (1829-1906) bought the vessel. He renaimed it EXPRESS and sailed the route the following 16 winters and then sold the vessel to FÅA/Finska Ångfartygs Ab from Helsinki in 1894.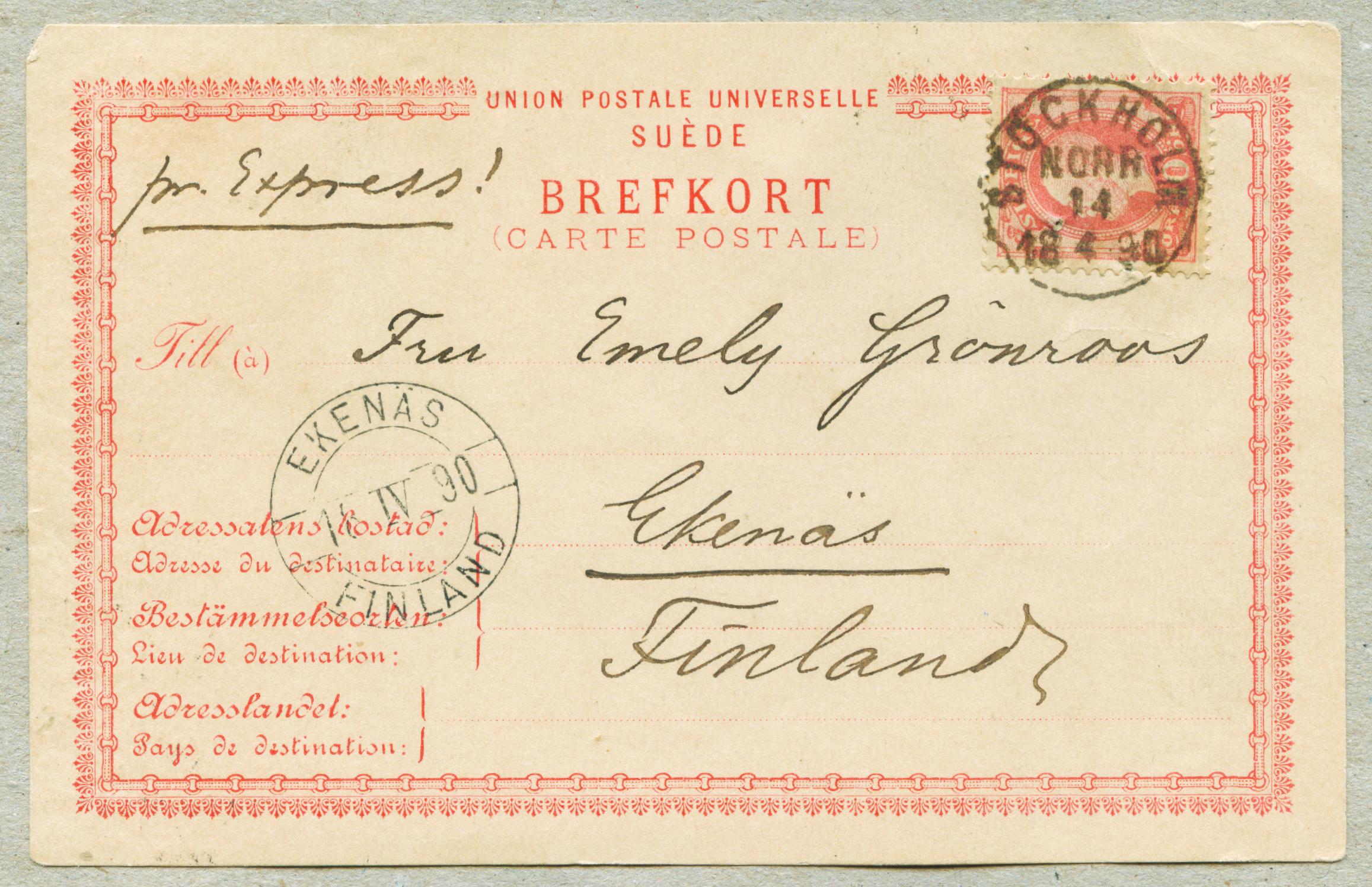 Card from Stockholm 14. 4. 1890 franked with 10 öre Oscar II. Endorsement "pr. Express" transitpostmarked on back Hangö 18.IV.90. Arrival postmark Ekenäs 18.IV.90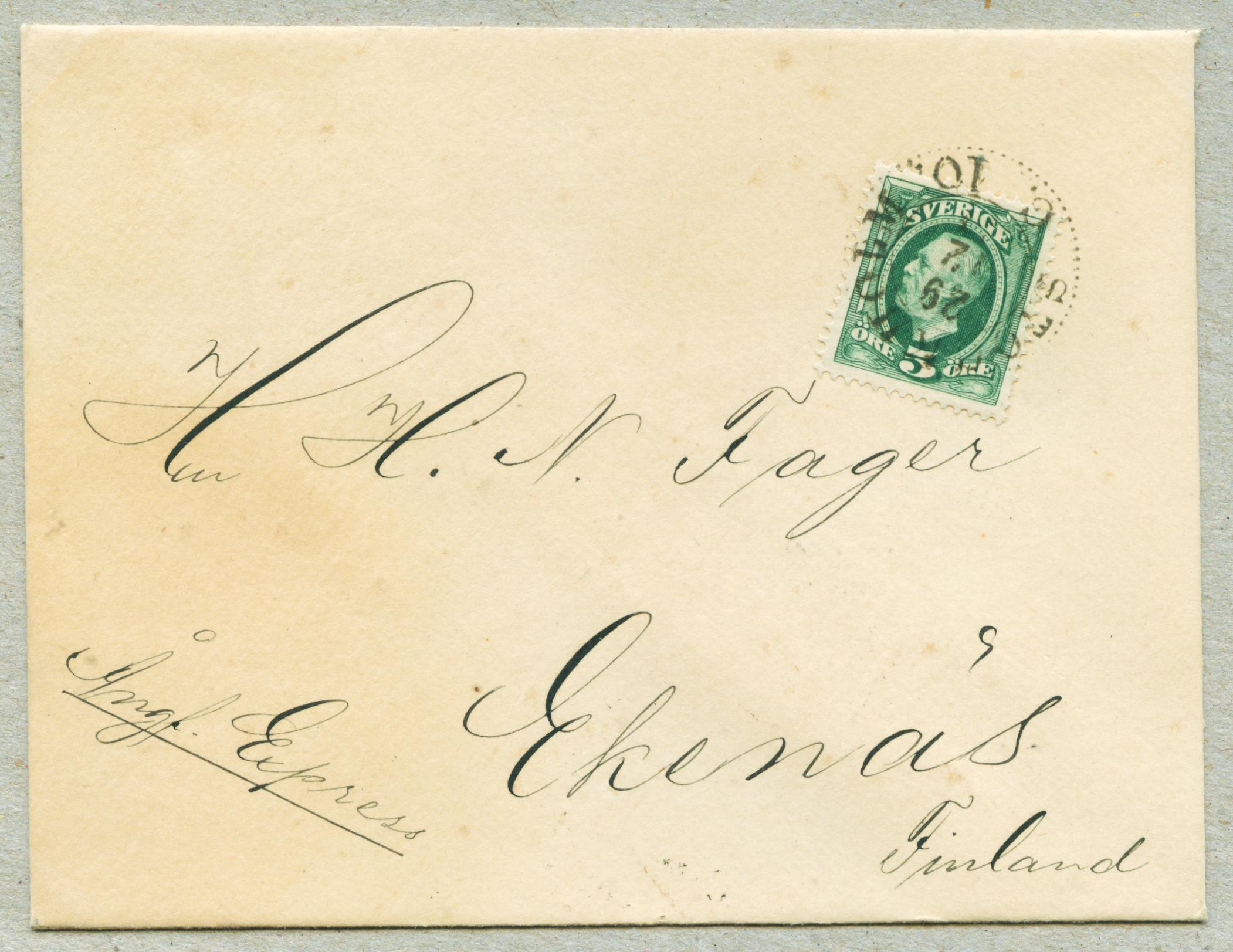 Printed matter sent from Stockholm 29.12.1891 with franking 5 öre Oscar II. Endorsement "Ångf.Express"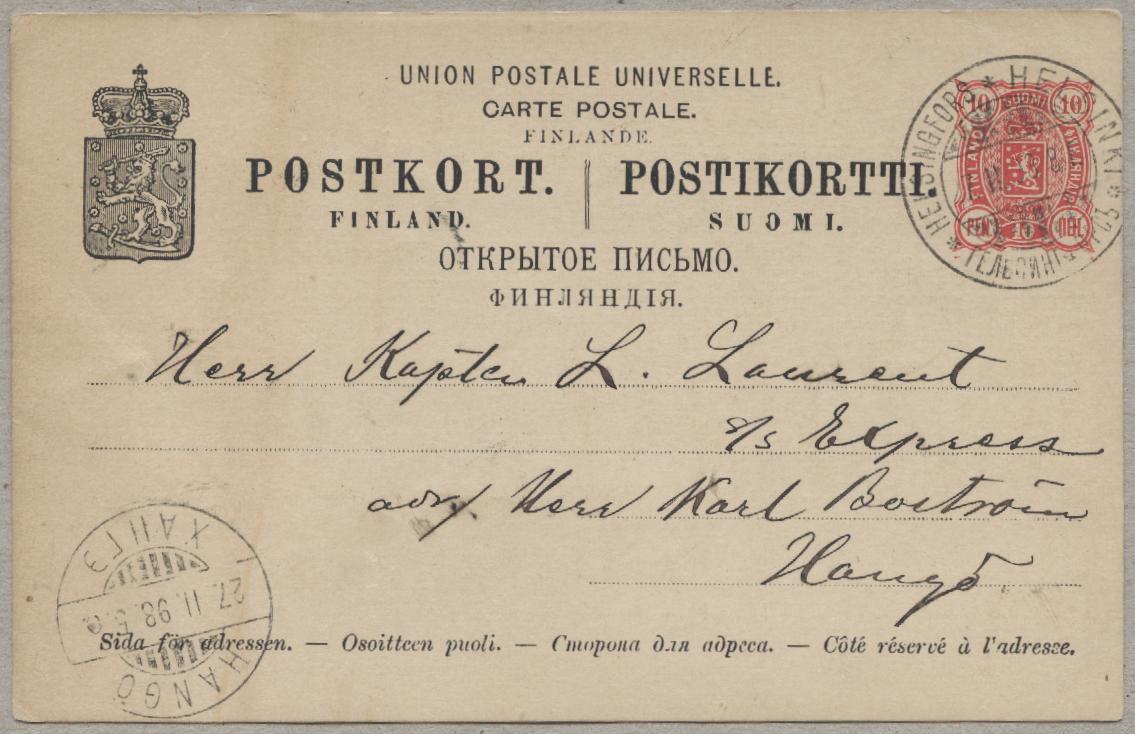 Card sent from Finska Ångfartygs Aktiebolaget in Helsinki to the master L. Laurent of s/s EXPRESS via Karl Boström in Hangö in February 1898.


The vessel continued on the route until 1898, where the newbuilt s/s OIHONNA took over (s/s OIHONNAs first departure from Hangö to Stockholm was 23. May 1898). s/s EXPRESS was sold to Russia in 1904 and was scrapped in 1930.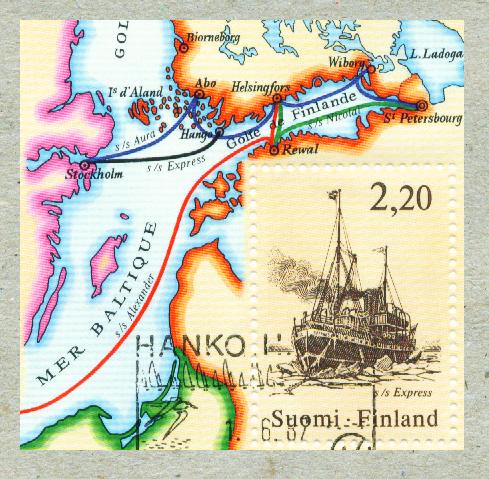 s/s EXPRESS and the route Hangö - Stockholm illustrated together with routes from Finland. This is part of a Finnish souvenier sheet issued in 1986
Opdateret d. 7. Mar. 2011