Ship Figure cancellations
from Helsinki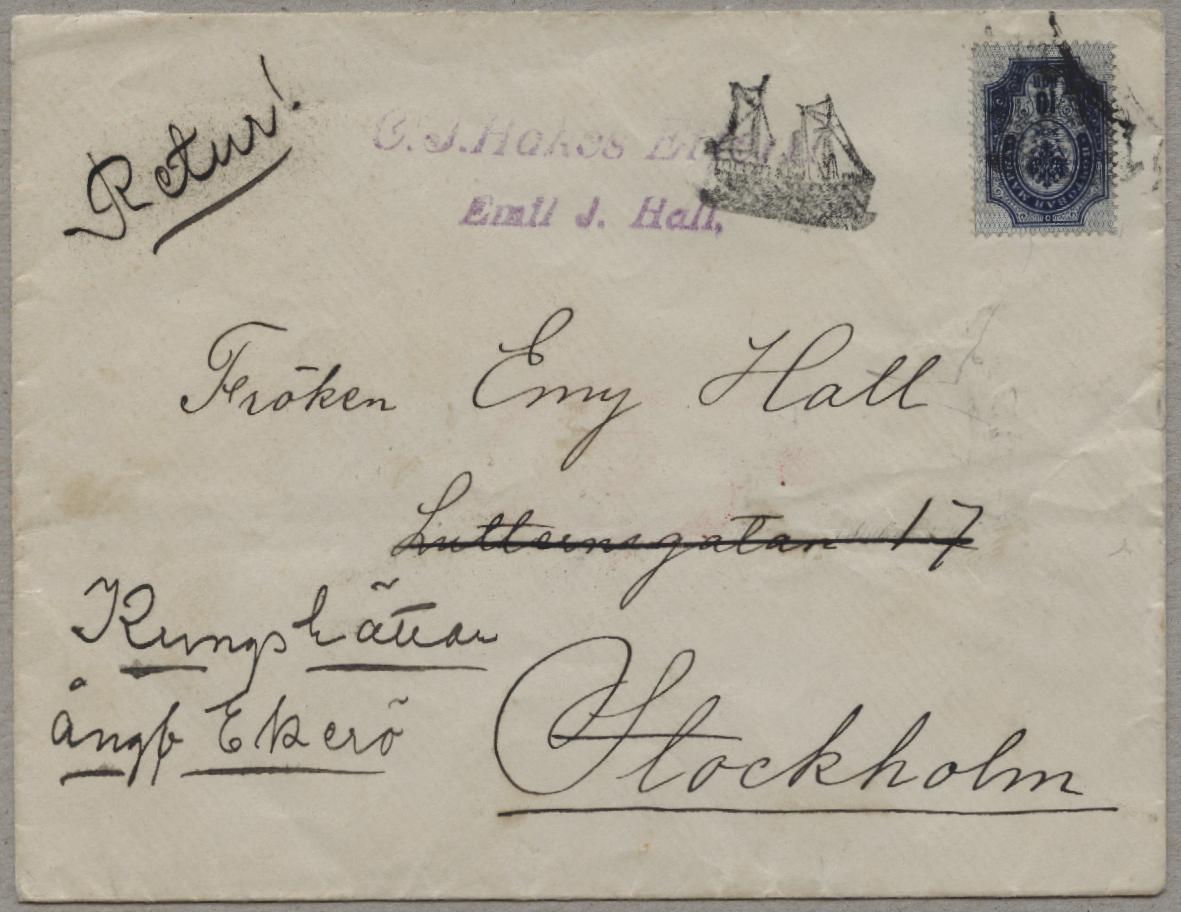 Cover from Finland to Stockholm, where the Russian 10k stamp has been cancelled with a Helsinki ship figure cancellation. Cover has been returned per ångb. Ekerö.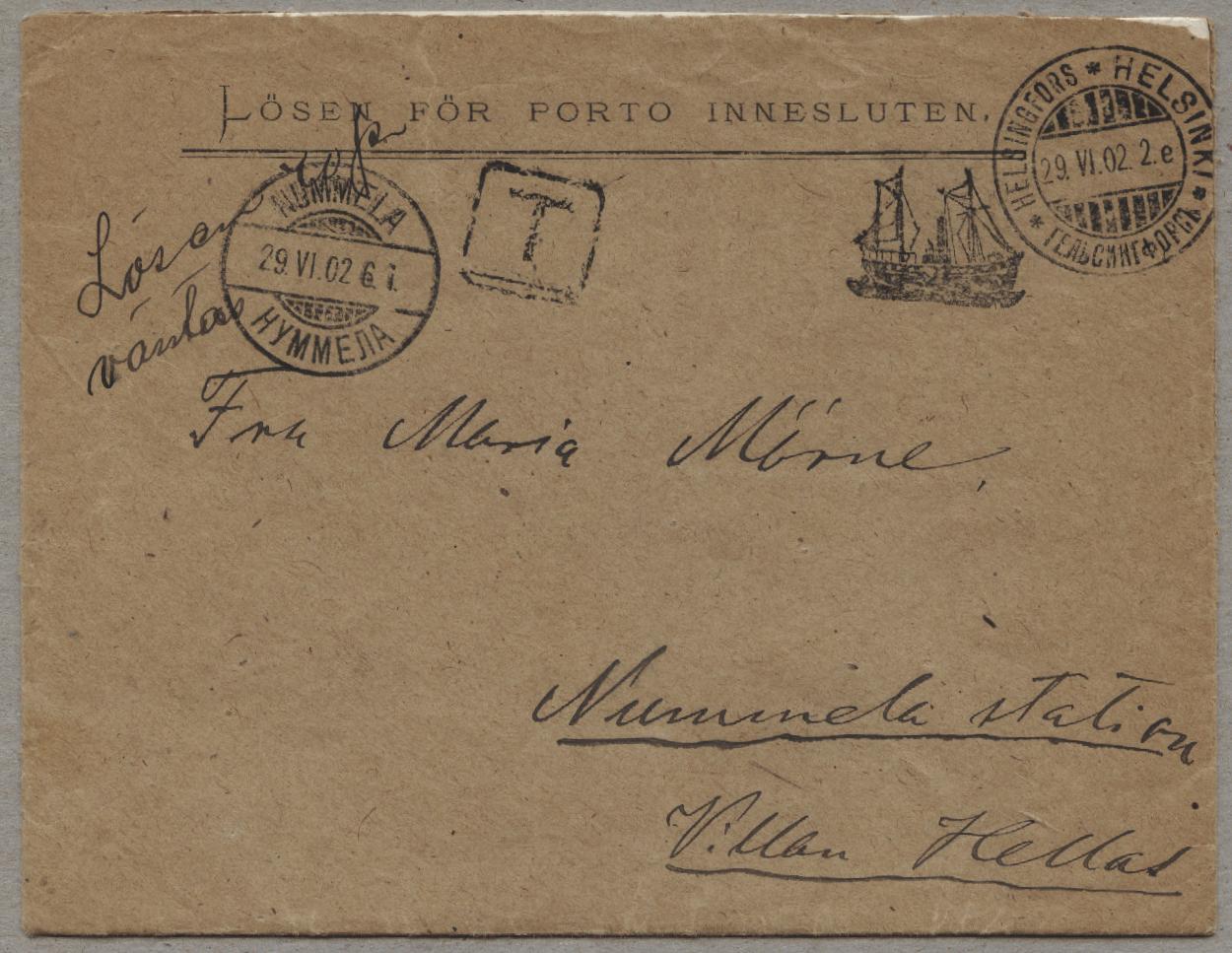 Another shipmail cover with the Helsinki ship figure canellation.

Period of use: 1894 - 1907 and two types found, size 20 and 24mm.
Similar type used at Hangö (rare)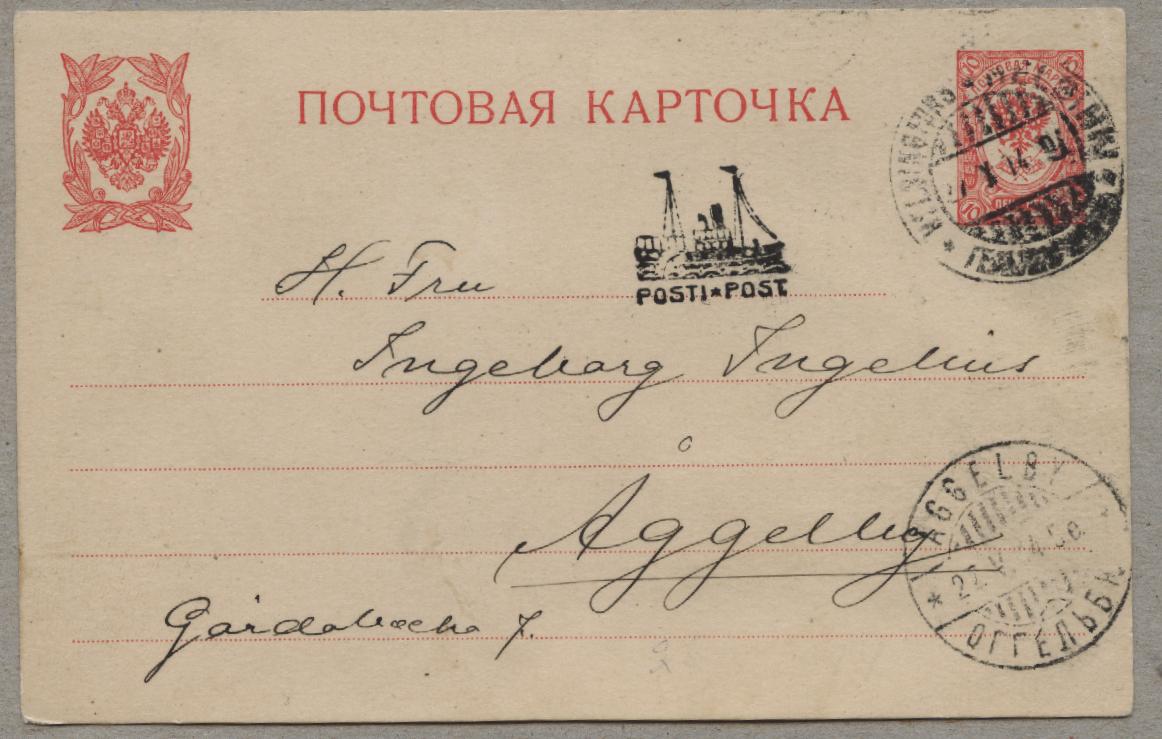 Ship cancellation with text "POSTI * POST" below ship, used 1907-1939 and again in 1950'ties. Postmark is often unclear and the number of small differences that can be found in this postmark but they are often very difficult to distinguish.
Similar types known used at Turku and Savonlinna (Nyslott),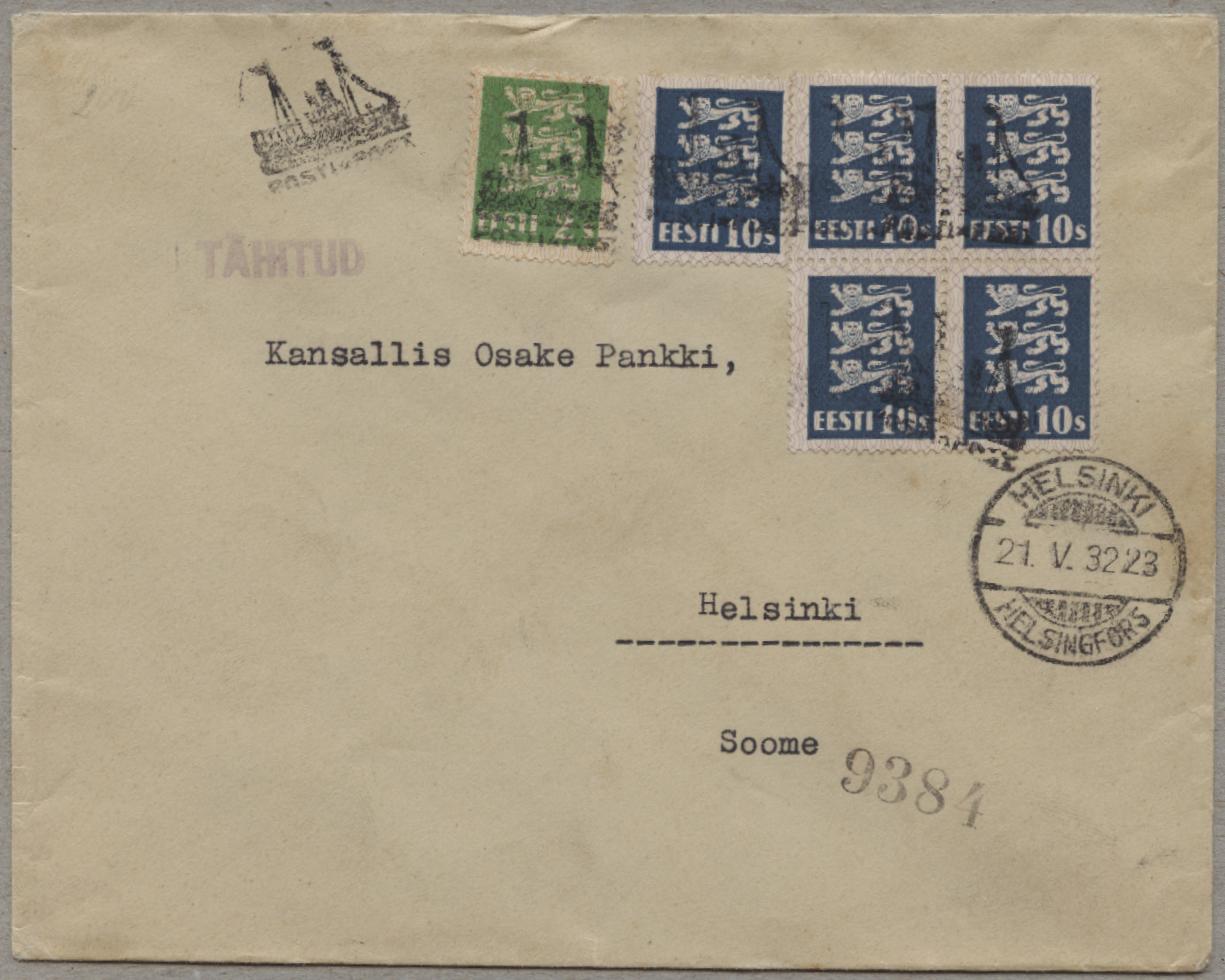 Cover sent from Estonia to Helsinki, per shipmail, the Estonian stamps are cancelled with ship figur postmark and Helsinki 21.V.32 arrival postmark
The figure postmark are known used on Swedish, Danish, English, German and Estonian stamps.
from Turku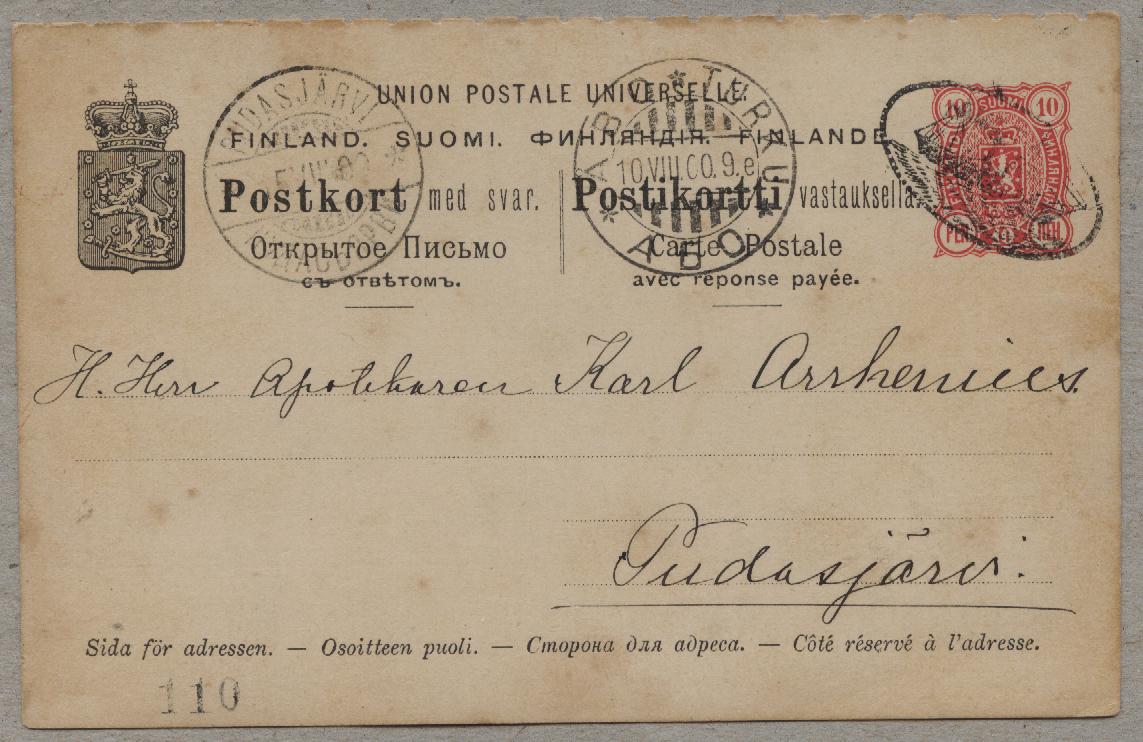 Ship figure postmark "Ship in oval" used in Turku 1897 - 1907.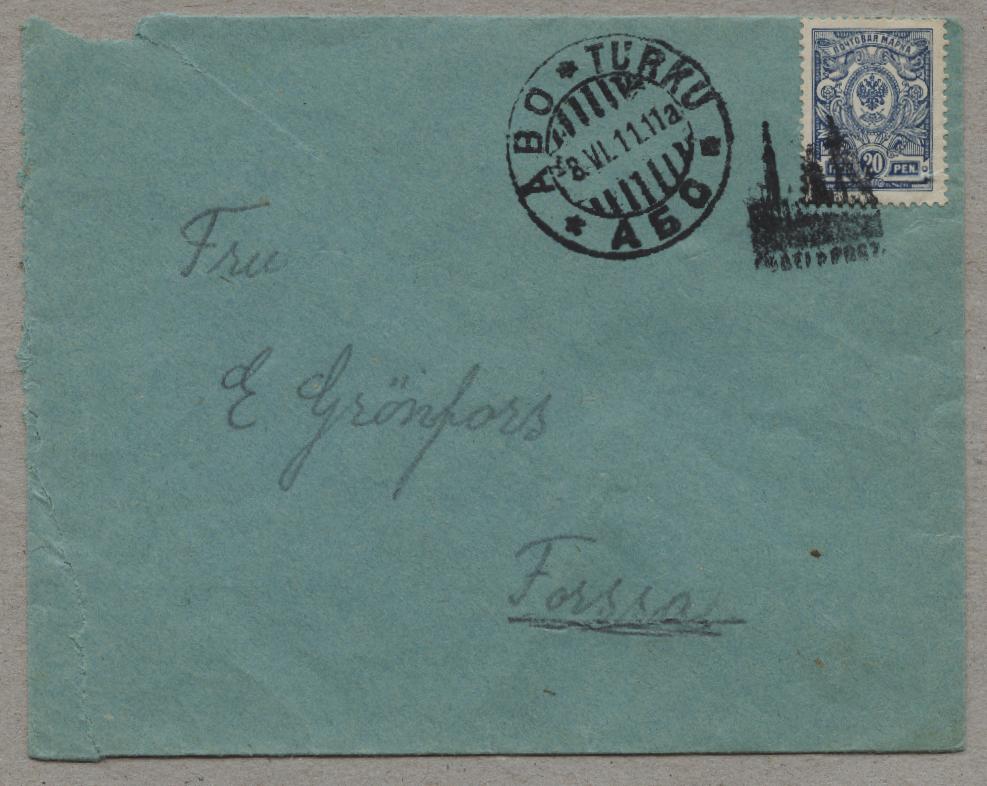 Turku-ship cancellation - also called Torpedo
- only known used on 4 dates 7th, 8th, 11th and 13th May 1911 - extremly rare.

Above card is from the auction Suomen Postimerkkeily Oy; 1/93 - lot 888
but the 10 pen to left of here is from my collection.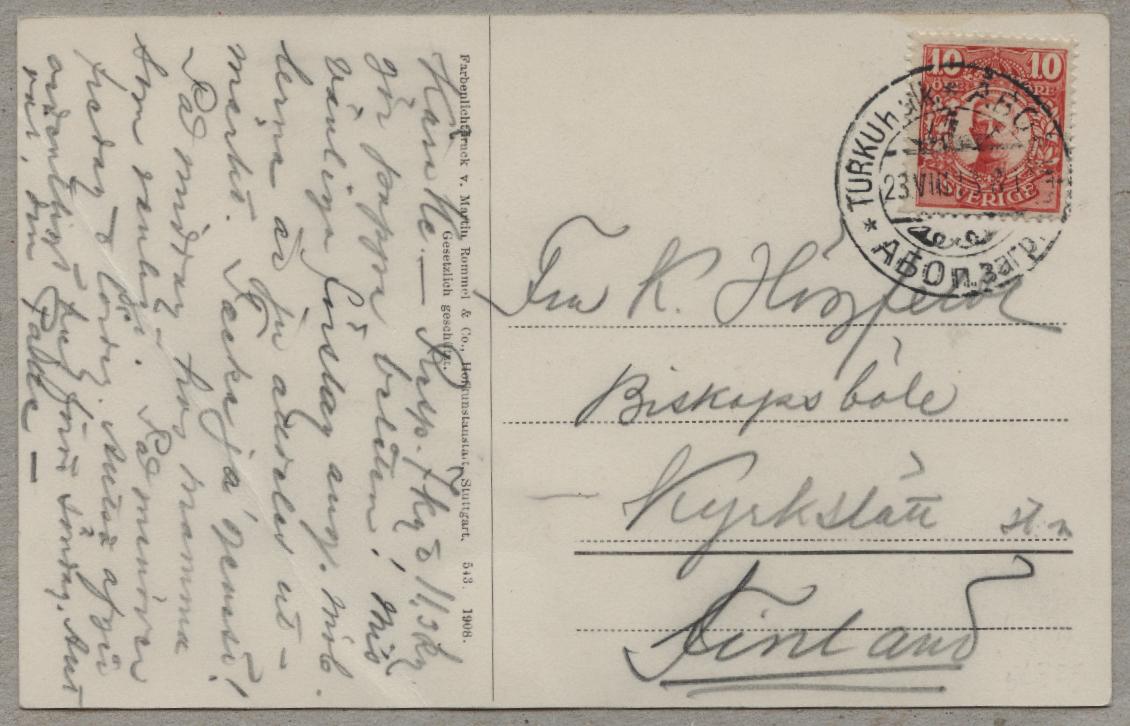 Turku Tri-Lingual Ships-cancel Type 1 - one big star, used to cancel incomming Swedish shipmail.
The postmark was used in Turku from May 1912 to 1914 for Ship mail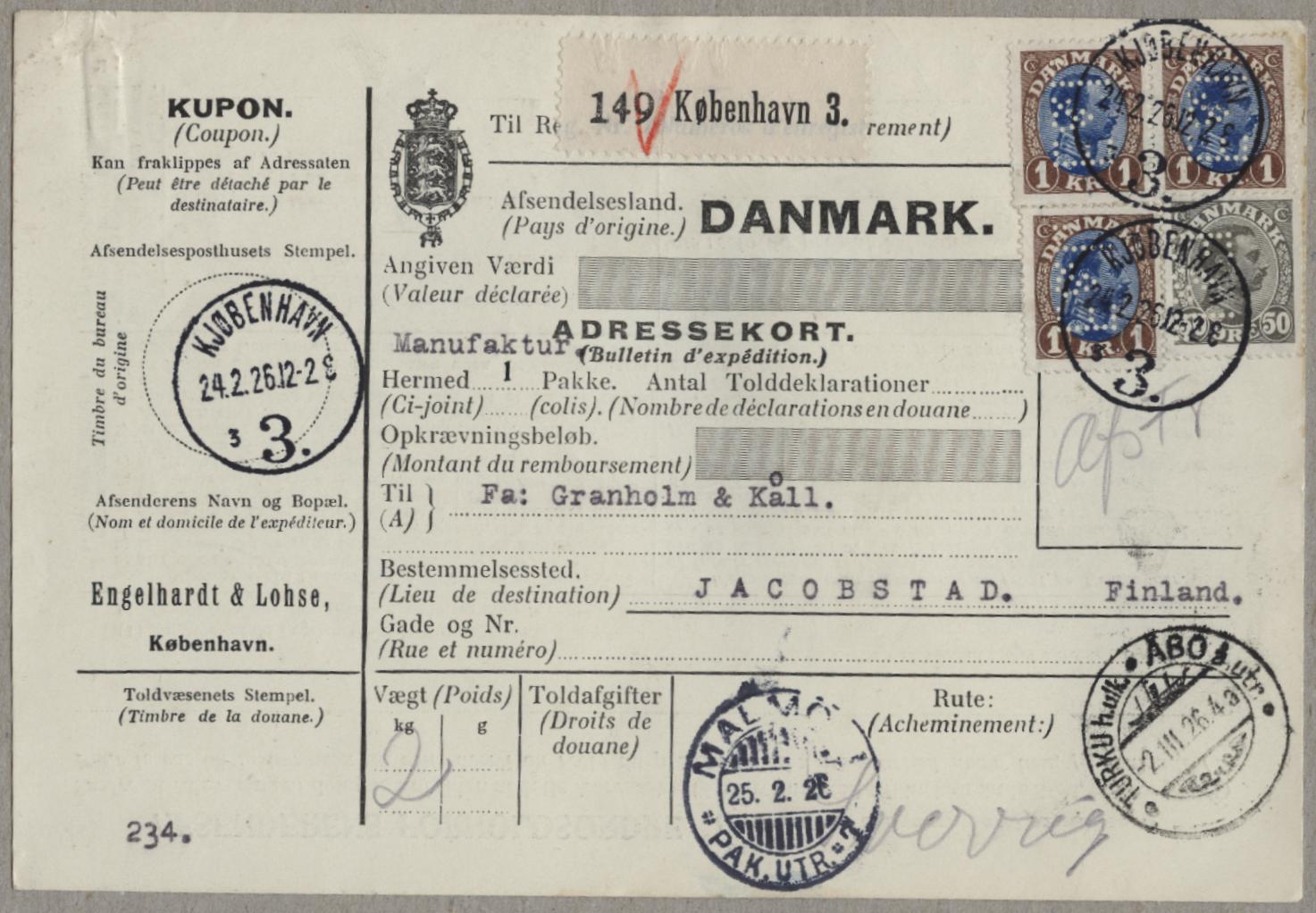 | | |
| --- | --- |
| | Turku Tri-Lingual Ships-cancel. Type 2 - one big dot, with Russian text removed, used as transitpostmark on parcelcard from Copenhagen to Jacobstad in 1926. |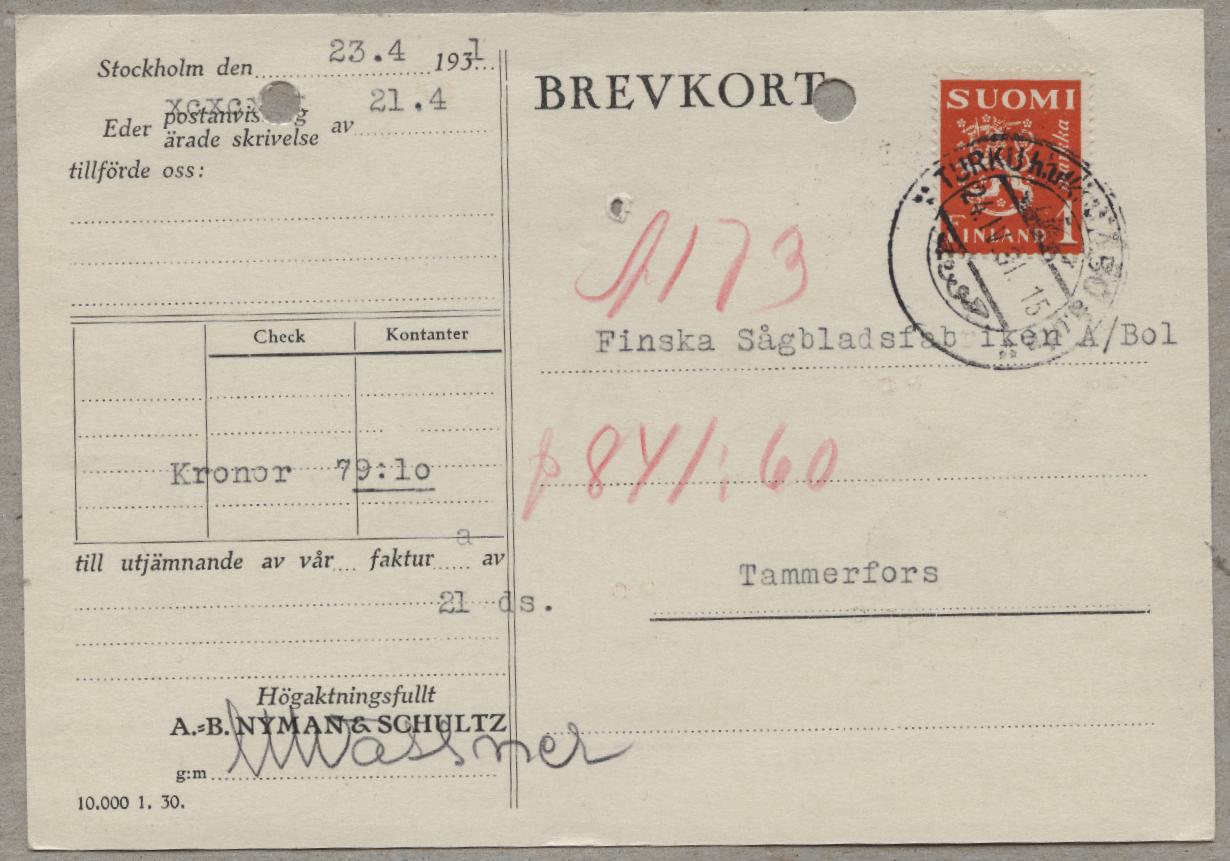 | | |
| --- | --- |
| | Turku Tri-Lingual Ships-cancel. Type 3 - 3 small stars, Russian text removed. All 3 types found with and without Russian text. after 1914 these cancellations were used as arrival-postmarks only. |
from Vipurii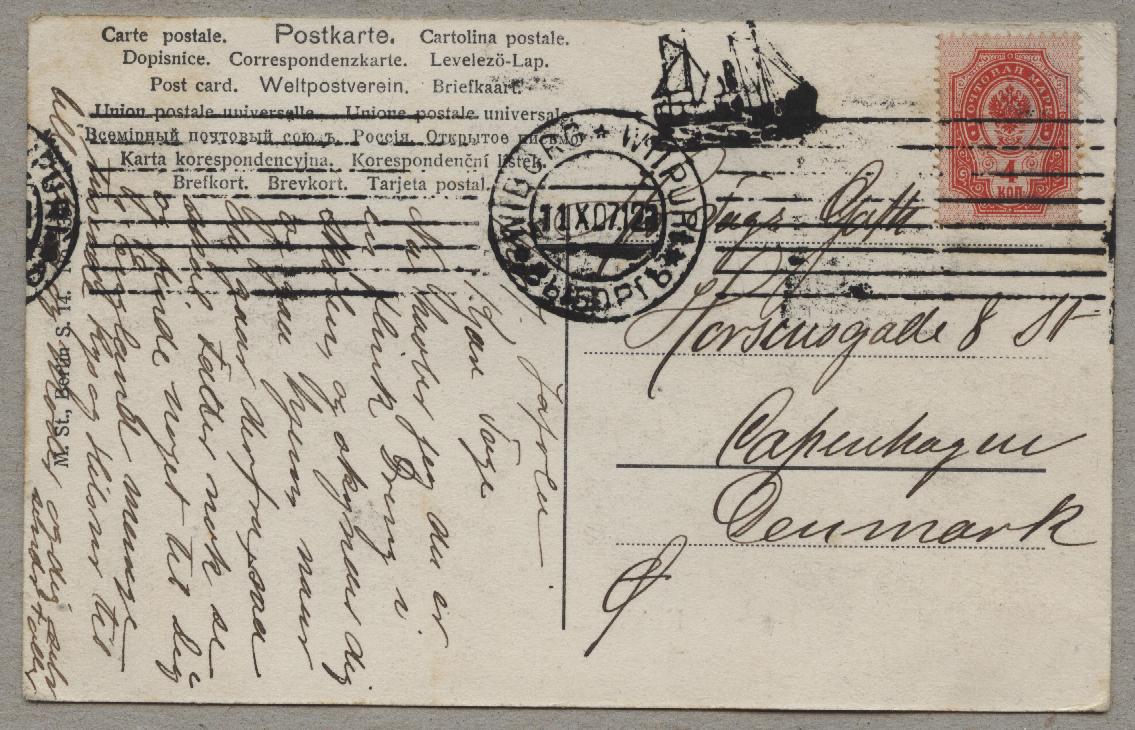 Wiborg Ships-cancel on postcard sent from Wiborg 11.X.07 to Copenhagen

It is difficult to see - but WIBORG written on vessels bow.
Postmark is rare - known used 1903-12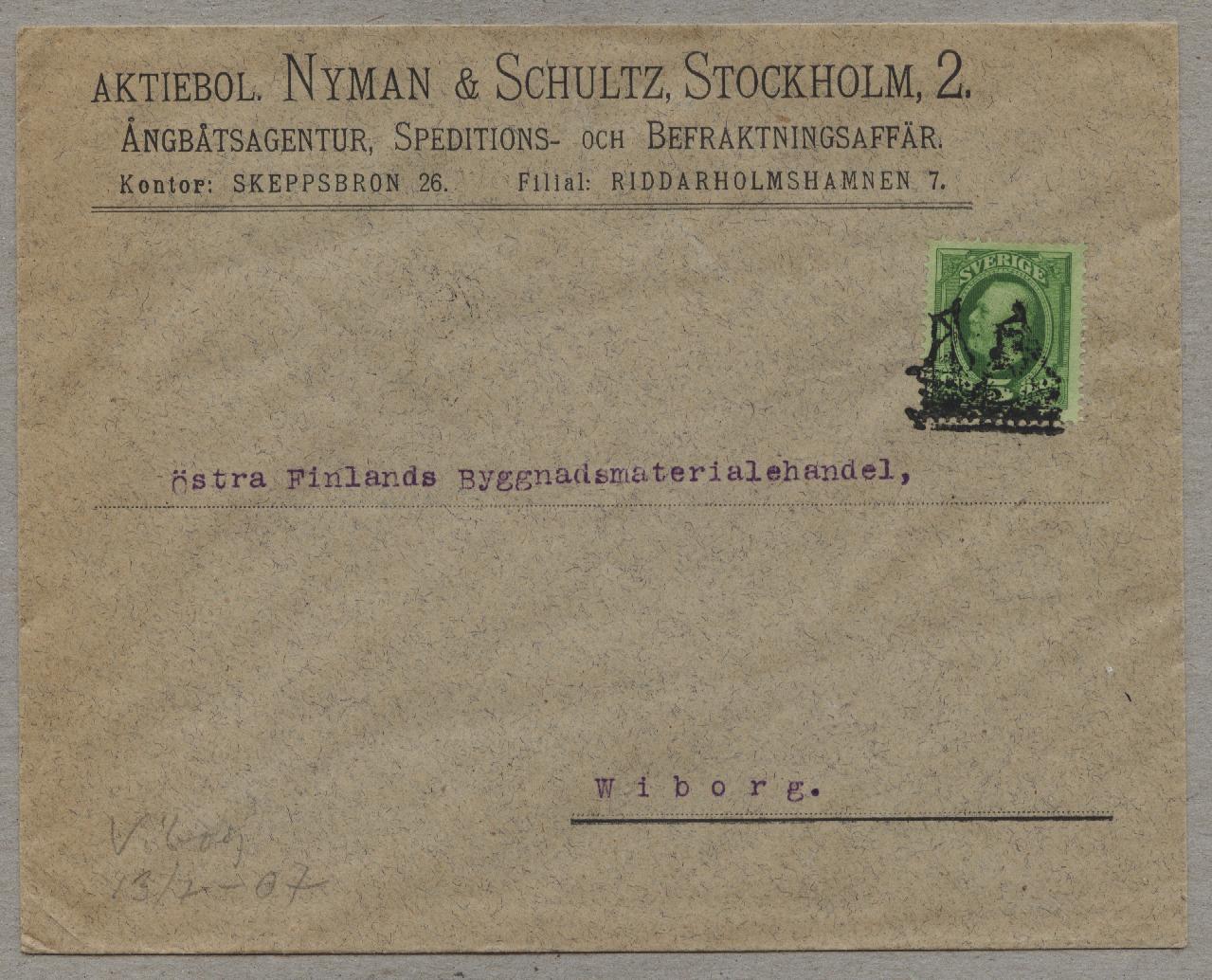 Cover sent from Stockholm to Wiborg. The Swedish stamp is cancelled with what I belive is Wiborg figure postmark, but it could be from Helsinki also. Cover has arrival postmark on back from Wiborg 13.VII.07
from Hanko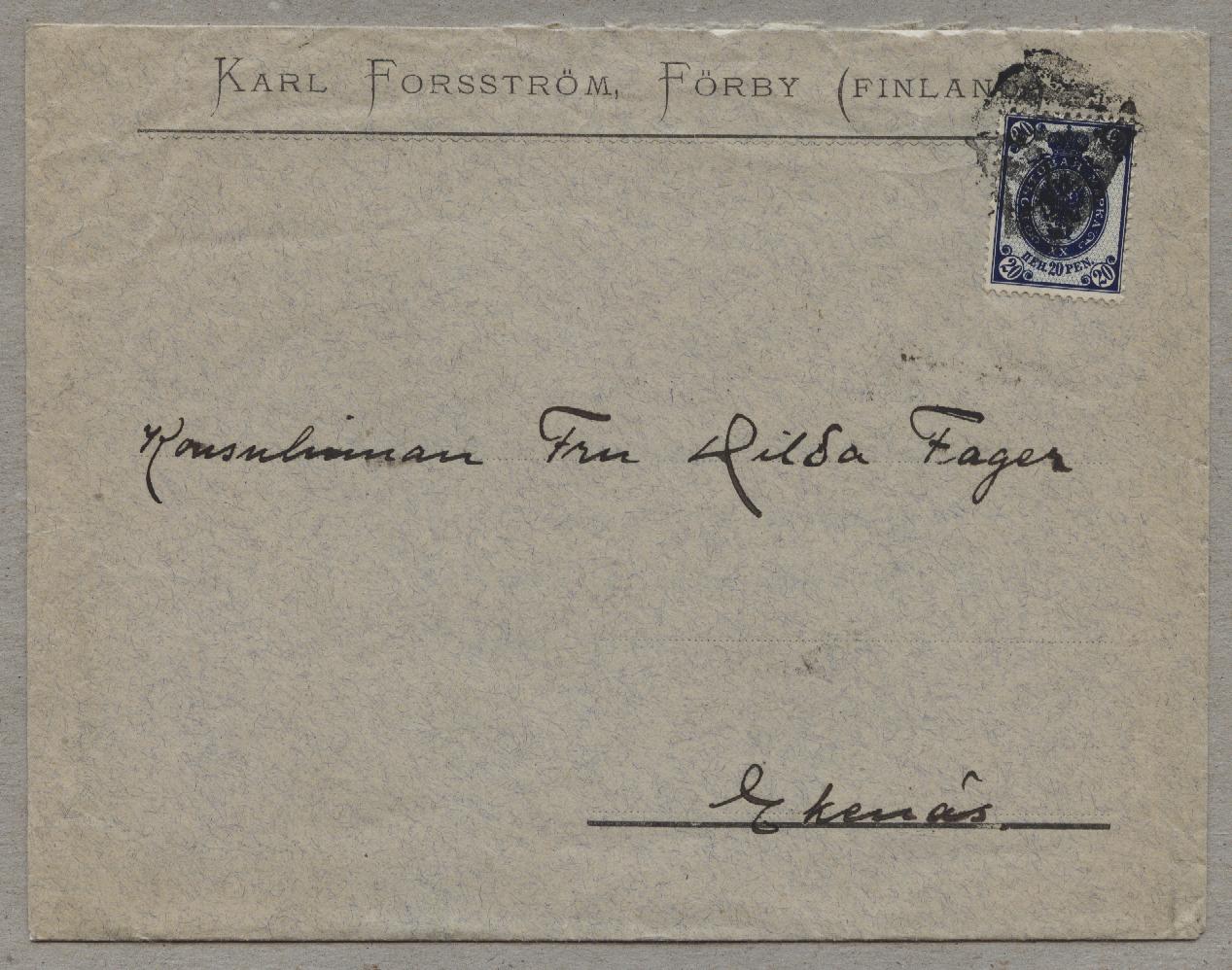 from Savonlinna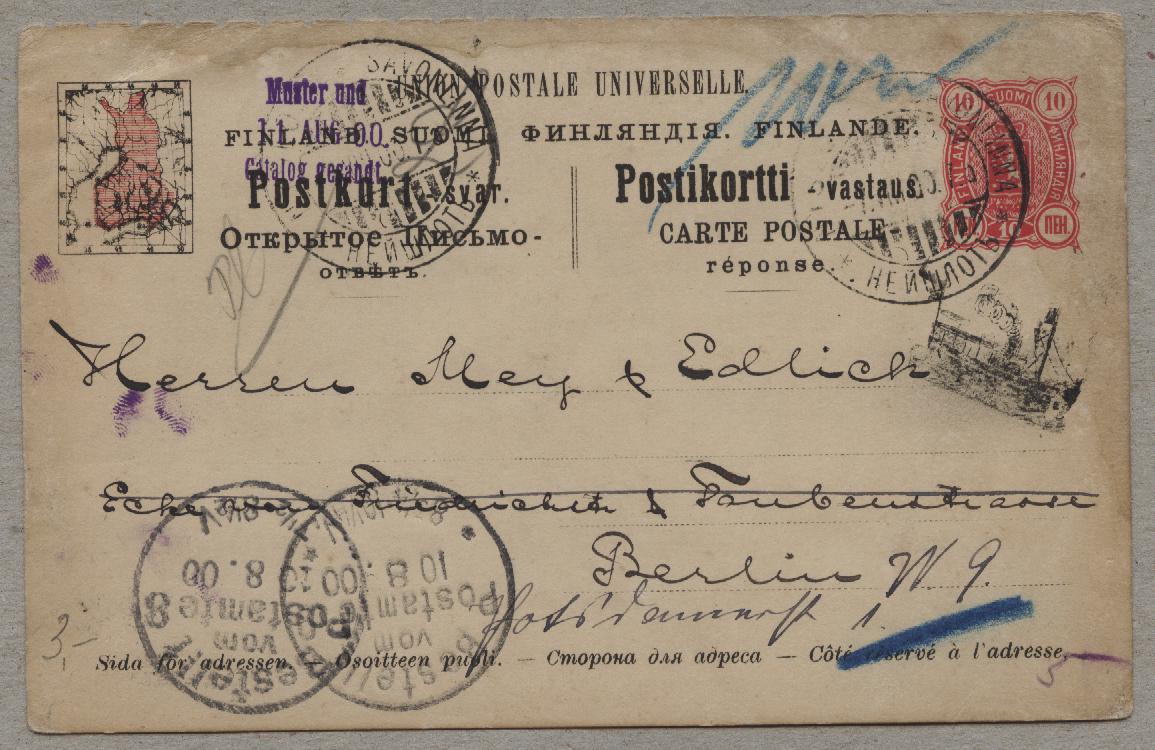 Nyslott * Savonlinna Ships-cancel
very rare - known used 1899-1902