Fake stamps from Russian period
---
10p. and 20p stamps of the 1901 Lithography


A number of fake 10 and 20p stamps were reported with postmarks but only in 1970 proof were found that these stamps had been genuinely used - in the magazine Karhunhammas #5/1970 the below shown card was introduced by Laitinen - since additional 8 items have been found.

The Origin of these fakes are still unknown - only used copies are known.

The stamps are probably printed by the genuine cliches - 10p on thicker paper then the normal stamp, whereas the 20p is printed on normal thickness - some expect the stamps to have been printed by Tilgmann & Co as some kind of proofs - the stamps may then have been smuggled out from the printer and then afterwards been perforated 11½ and sold to make money

Largest known group is a 10p strip of 4 cancelled in Helsinki 17.VI.1901 (Kerailyuutiset mail auction No. 5/1996)

As the list below shows - only 9 known postal items with fake 10p from the last 20 - 25 years about 50 copies of this 10p seems to have been offered at public auctions - whereas only 6 known postal items with fake 20p and only very few single 20p items - incl. 2 pairs - one vertical and one horizontal and a horizontal strip of three have been offered.



---
| | |
| --- | --- |
| 10p Stamp | |
Cancellation
Receipt and Address
Arrival Markings
Auction
1
Helsinki 16.VI.01
Fru L. Sagulin,
Lovisa
Loviisa 17.VI.01
*/
2
Helsinki 19.VI.01 7i
Fröken Sigrid Apelgren,
Terijoki
Terijoki 19.VI.01
Hellman auction #71
2. Mar. 2012 lot 1545
3
Helsinki 24.VI.01
Maisteri Herra Santari Dahlström,
Lempäälä
none
Suomen Filateliapalvelu
5 Jun 2003 lot 256
4
H:fors-St P:Burg 2.VII.01
Herrar W. Gutzeit,
Kotka
3.VII.01 9.f.
5
Helsinki 25.VI.01.6.e
Moe & Asplund,
Vaasa (2x10p pair)
unknown
*/
6
Helsinki 26.VI.01
Fröken Milli Gyllström,
Lempäälä, Sortavalta,
herrskapet Richter
missing
Merkki Albert auction 44
08 Nov. 2012, lot 422
7
Helsinki 28.VI.01
Fröken Milli Gyllström,
Lempäälä, Sortavalta,
herrskapet Richter
missing
8
Helsinki 25.VI.017F
Till Syskonen på Kuusito,
Lempäälä Kuusito
smudgy
oy Kaj Hellman
27. Feb. 2003 lot 1194
(unsold)
9
Helsinki 19.VI.01
Puuvillatehdas Vaasa
(Cotton factory)
Nikolaistad 21.VI.01.6f
oy Kaj Hellman
7. Oct. 2006 lot 948

Suomen Filateliapalvelu
8. Oct. 2021 lot 2435

*/ illustrated in "HFF Reference manual of forgeries"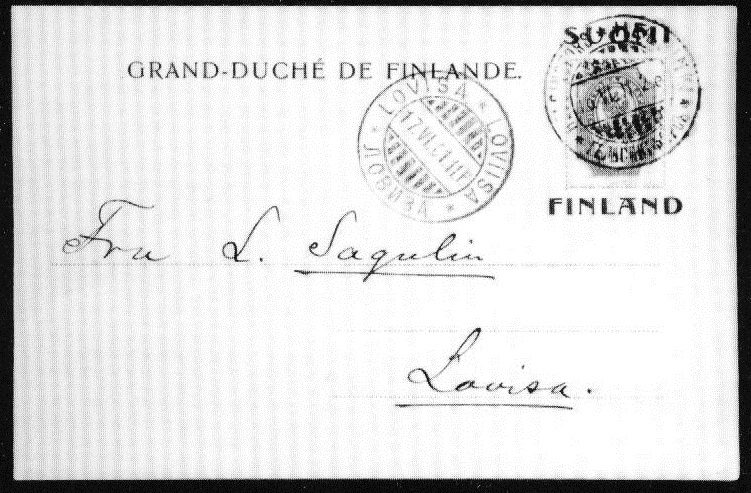 Item #1 from list above



---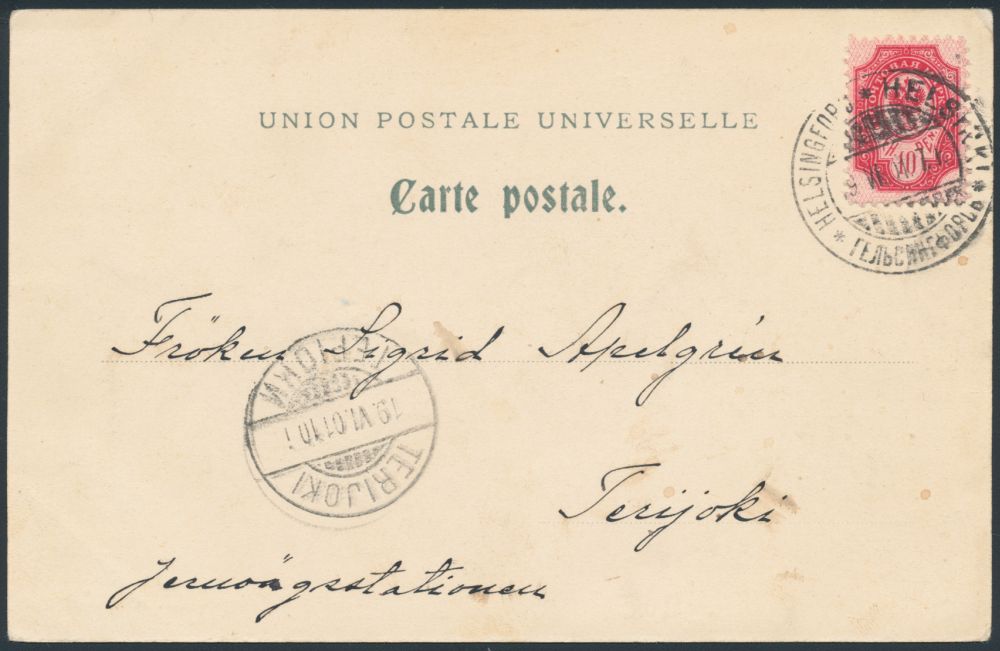 Item #2 from list above



---


Item #3 from list above



---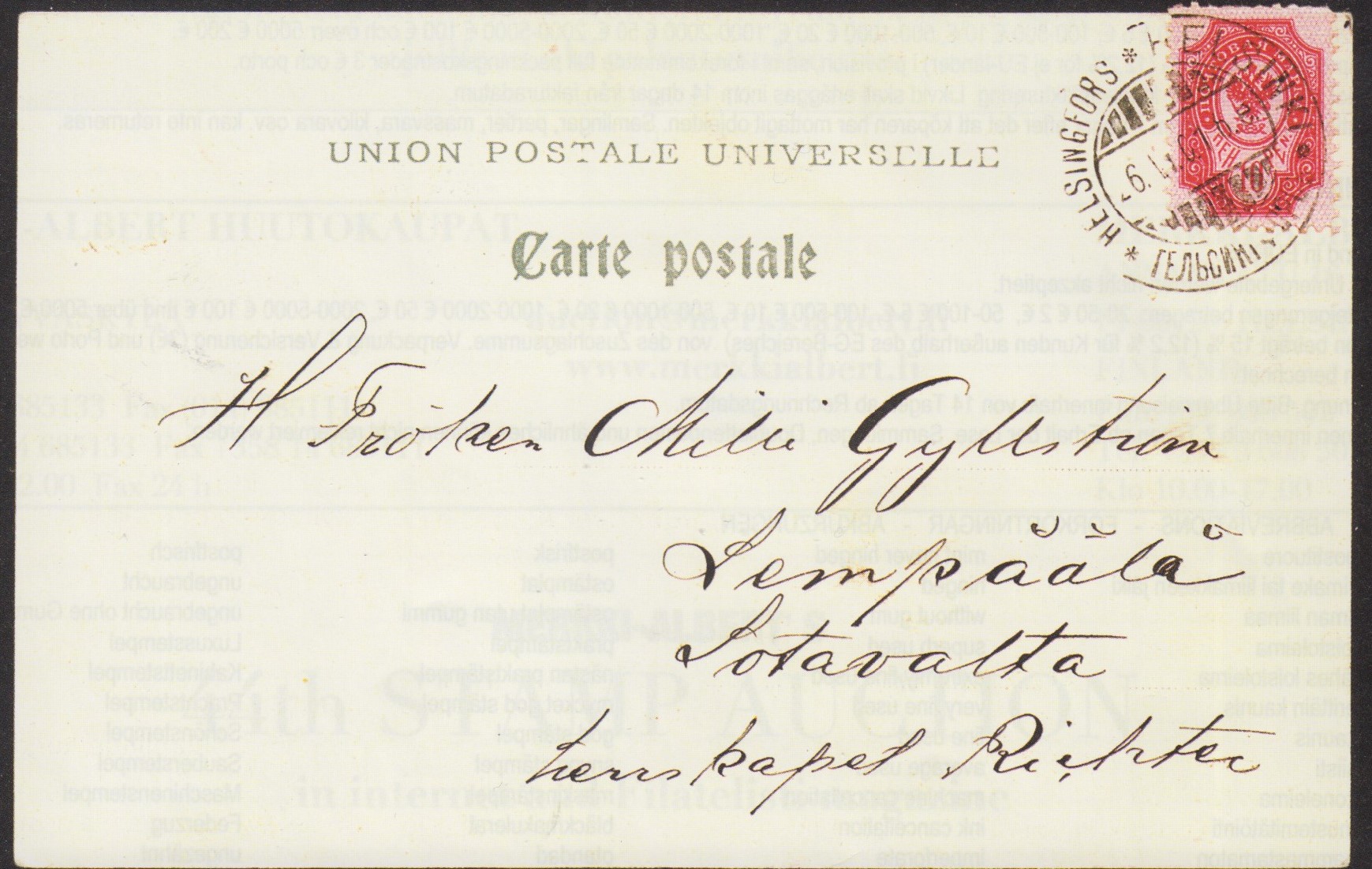 Item #6 from list above



---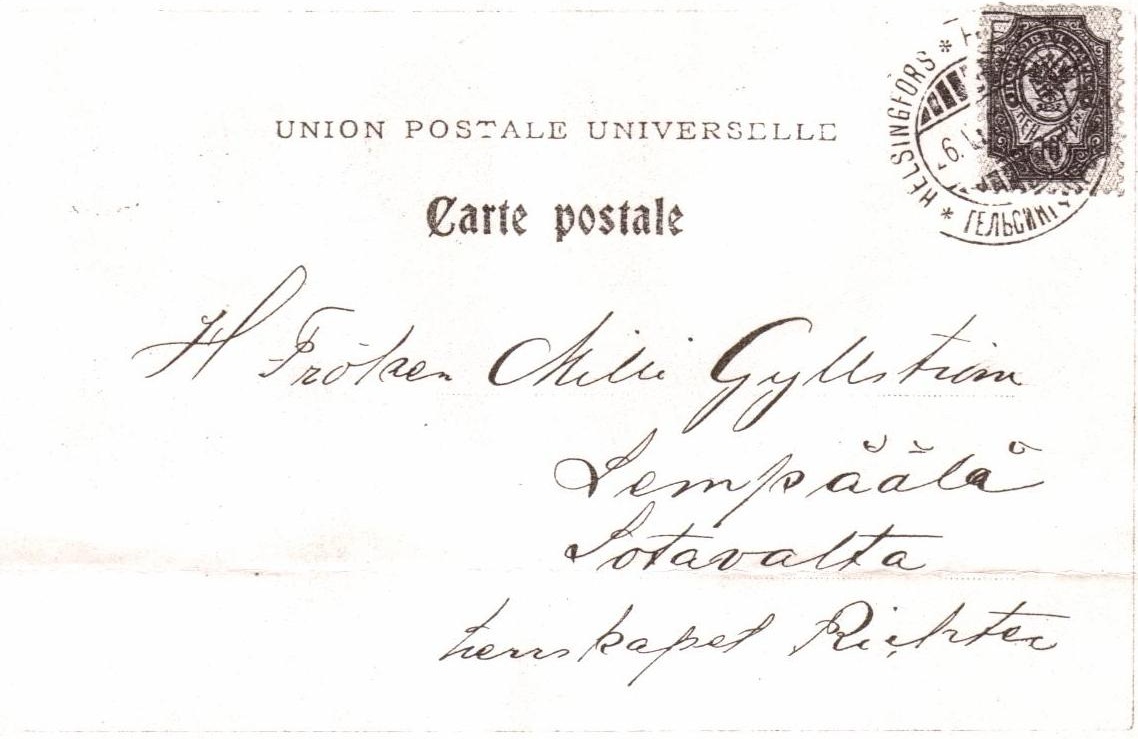 Item #7 from list above



---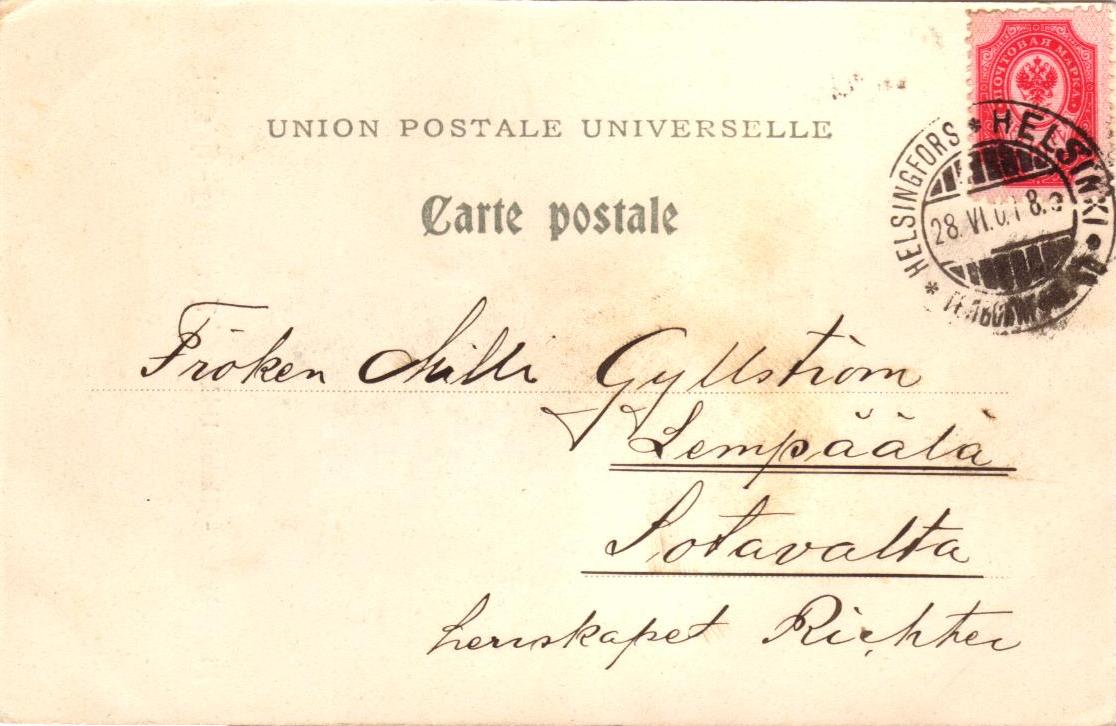 Item #8 from list above



---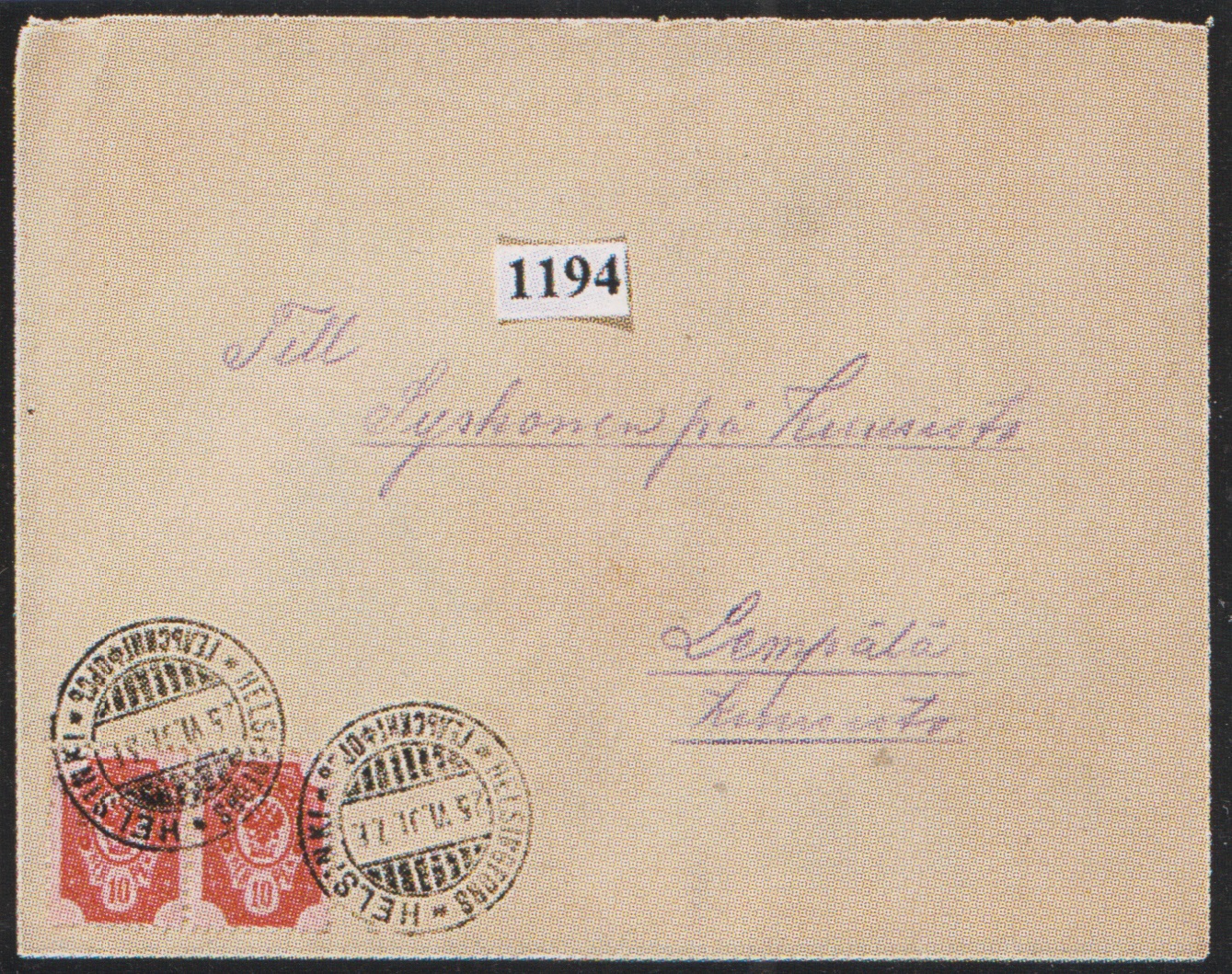 Item #9 from list above



---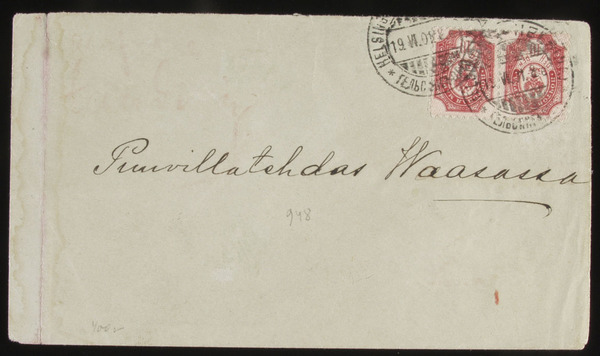 Item #10 from list above


1
Helsinki smudgy
Kaptenskan S. Ascholin,
Ades Handlande A Heyno,
Åbo Singers Afär
unknown
Merkki-Albertin's 18th auction in Oct. 1999
2
Helsinki 30.III.01
Stadskapten Baron R. Carpalan, Turku
Turku 30.III.01
3
Helsinki 28.III.01
Stadskapten Baron R. Carpalan,
Turku
Turku 3.III.01
4
Helsinki 31.III.01
Stadskapten Baron R. Carpalan,
Turku
Turku 31.III.01
Abophil 5/2005
5
Helsinki 30.III.01
Geheimerodet H. Herr A von Etter,
Ratula Uusikylä
Uusikylä 31.III.01
Suomen Filateliapalvelu
19th Dec. 2001
6
Helsinki 30.III.01
COD address card (amount=6,20 Fmk)
Herr M. Norrbacka, Peräseinäjoki
Peräseinäjoki 2.IV.01
oy Kaj Hellman
4. May 1996 lot952
Opdateret d. 08. Oct. 2021