S/S "Bore"


s/s Bore delivered from Helsingør Jernskibs- og Maskinbyggeri on 19. Jan. 1898 as building #69, Brt: 703, Loa: 58.19 to Ångfartygs Aktiebolaget Bore, Åbo

In this period there was great competition between Helsinki, Hangö and Åbo of the ferry routes between Finland and Sweden. Finska Ångfartygs Aktiebolag was sailing Helsinki - Hangö - Stockholm with among others s/s EXPRESS. So Ångfartygs Aktiebolaget Bore was founded by selling shares to local investors, with the purpose of buying a steamship to sail from Åbo to Sweden. S/s Bore arrived first time in Turku on 27. January 1898 and was meet by a big croud of people.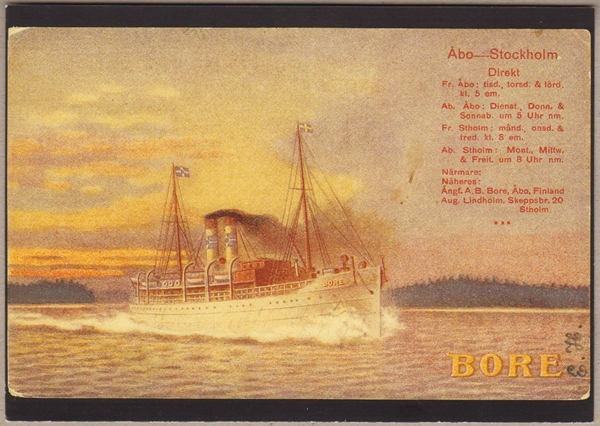 According to this 1898 or 1899 postcard (reprint from 2001) vessel sailed the route Åbo - Mariehamn - Stockholm. From Åbo Tuesday, Thursday, and Saturday at 5 pm and from Stockholm Monday, Wednesday, and Friday at 8 pm. But in beginning vessel only made one double tip sailing from Åbo on Saturday and from Stockholm on Wednesday.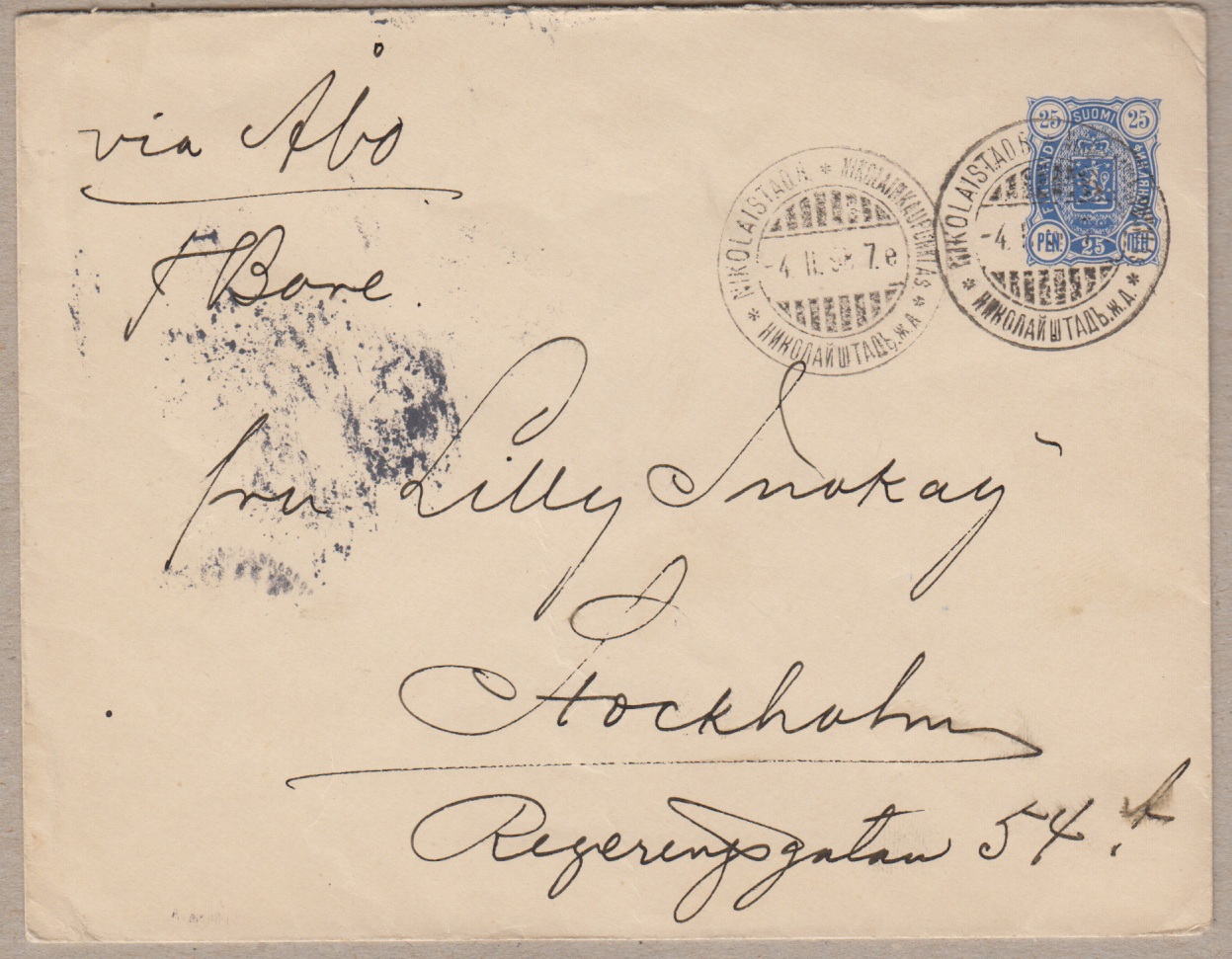 S/s Bore first departure from Åbo was on Saturday 29th Jan 1898, and this cover is sent from Nikolistad Friday 4.II.1898 directed "Via Åbo / Bore" and with arrival postmark from Stockholm Sunday 6. Feb.1898, so this cover have been onboard the vessels second voyage from Åbo. Above weekdays found with help from The Perpetual Calendar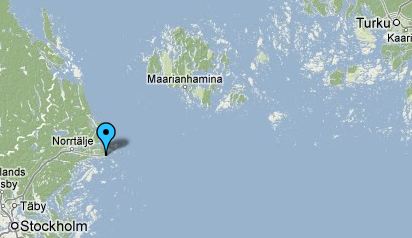 On Saturday 30 December Bore left Turku in Finland, bound for Stockholm via Mariehamn (Åland). Due to bad weather and fog Bore was much delayed. Before entering Swedish water vessel had to drop anchor to await aprovement. In spite of this the vessel did run aground at Kapelskär in Sweden at around 21:15h on the evening of 31. Dec. 1899.Vessel sliped of the rocks and sank around 04:00h in the morning of 1. Jan 1900. No lifes were lost but all luggage and 20 mailbags went down.



| | |
| --- | --- |
| | Bore wreck mail resent and postmarked Stockholm 19. Jan. 1900 |

In the following 3 weeks divers salvaged the luggage together with 17 of the 20 bags from 36 meters debt. The saved mail was brought to Stockholm and dried - and a small label was added, and then the mail was re-sent from middle of January.




| | |
| --- | --- |
| | Letter from Bore sent from Helsinki to Falun, Sweden - with arrival postmark from 31. August 1900 |

In august 1900 an attempt to raise the Bore was made - but due to early ice the attempt was in September postponed to May 1901 - but the divers found futher 2 mail-bags during the attempt. These letters and cards were resent from Stockholm, again with a red label.



| | |
| --- | --- |
| | Letter from the final Bore mailbag sent from Finland to Stockholm, Sweden arrival postmark from 3. May 1901. The cover stamped with OBESTÄLLBART on front and okand; adress icke här anmäld on back. (not able to deliver / Unknown; address not known) |

In May 1901 salvage of Bore succeded - and yet another - the 20th and final mailbag was found, or actually what previously was assumed to be the 20th mailbag was in fact the mailbox onboard the vessel. Mail salvaged in May 1901 never have any Finnish postmarks.

Swedish authorities also printed ambulance covers, a protective cover to forward damaged mail. Text printed on the covers: "Indehåller en försändelse tillhörande förolyckade ångf. BORES post"

| | |
| --- | --- |
| | Small size ambulance cover, 9,3cm high and 14,4cm wide. The cover is unaddressed but contains a badly damaged greeting card card from Helsinki, dated 30.12.1899. The card probably never reached its destination |
| | |
| --- | --- |
| | Large size ambulance cover, 12,3cm high and 19,5cm wide, mailed from Stockholm 24 Jan 1900. |




Numbering and dates in the following are from Maritime Disaster Mail by Norman Hoggarth and Robin Gwynn (H&G) which is the very best recearch that I have come across sofar. H&G writes "Either four or five types of the label were used".

Here below I show the four labels I have in my collection in 600dpi scanning.



Type #1
Used 19. January 1900
size 21 x 14mm
BORES 4½mm high
B(ores) under (T)i(llhör)



Type #2
Used 19, and 20. Jan. 1900 and in May 1901
size: 36 x 18mm
B(ores) higher than other letters



Type #3
used 20. Jan. and 24. Aug. 1900
size 21 x 14mm
BORES 3 mm high
B(ores) under (Til)l(hör)
(Tillhö)r over E in line two



Type #4
Used Aug. and Sept. 1900
size 21 x 14mm

BORES 3½mm
B(ores) under (Till)h(ör)
(Tillhö)r over R in line two



Type #5
Used in April/May 1901.
size: 36 x 18mm

B(ores) higher than other letters
>
B(ores) under (Ti)ll(hör)


H&G list the type 5 - followed by a questionmark, and following remark: "Similar to Type 2, but the position of the "B" seems to be slightly to the left. Used in April/May 1901."
I belive the above type 5 is the one H&G is refering to - this JPG I have borrowed from Hallvard Slettebø


| | |
| --- | --- |
| | This cover has label #3 from above attached on back of the cover, sadly without any readable postmarks after being dried and reposted, so I donot know if it is from January or August 1900. |

The owners bought the wreck from the insurance and S/s Bore was repaired and rebuilt at Burmeister & Wain in Copenhagen. The vessel returned to Åbo on 14. Dec. 1901 now renaimed "Bore I". Not many days later vessel was again sailing the very same route: Åbo - Mariahamn - Stockholm. Vessel was sold to Germany for scrap on 25. Sept. 1961. Futher information can be found in below links.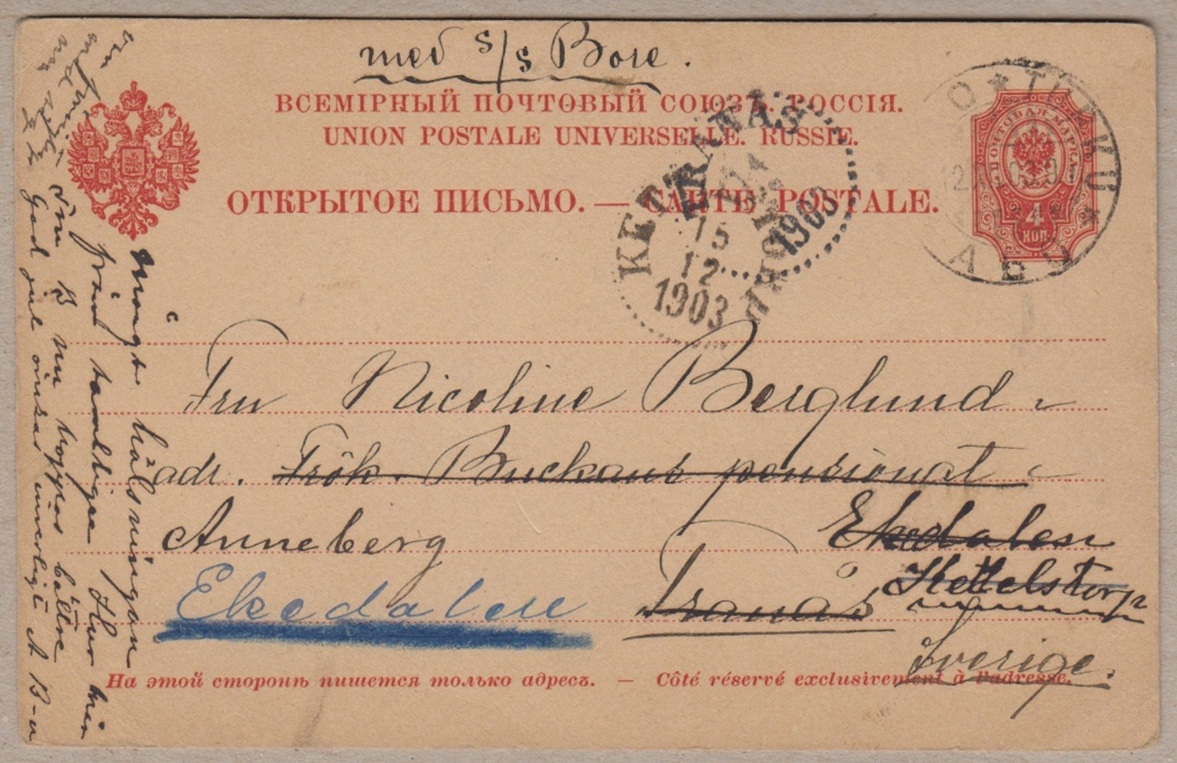 Russian 4 kop. postal stationary sent in Dec. 1903 from Turku / Åbo per s/s BORE to Sweden. BORE I would have been correct name.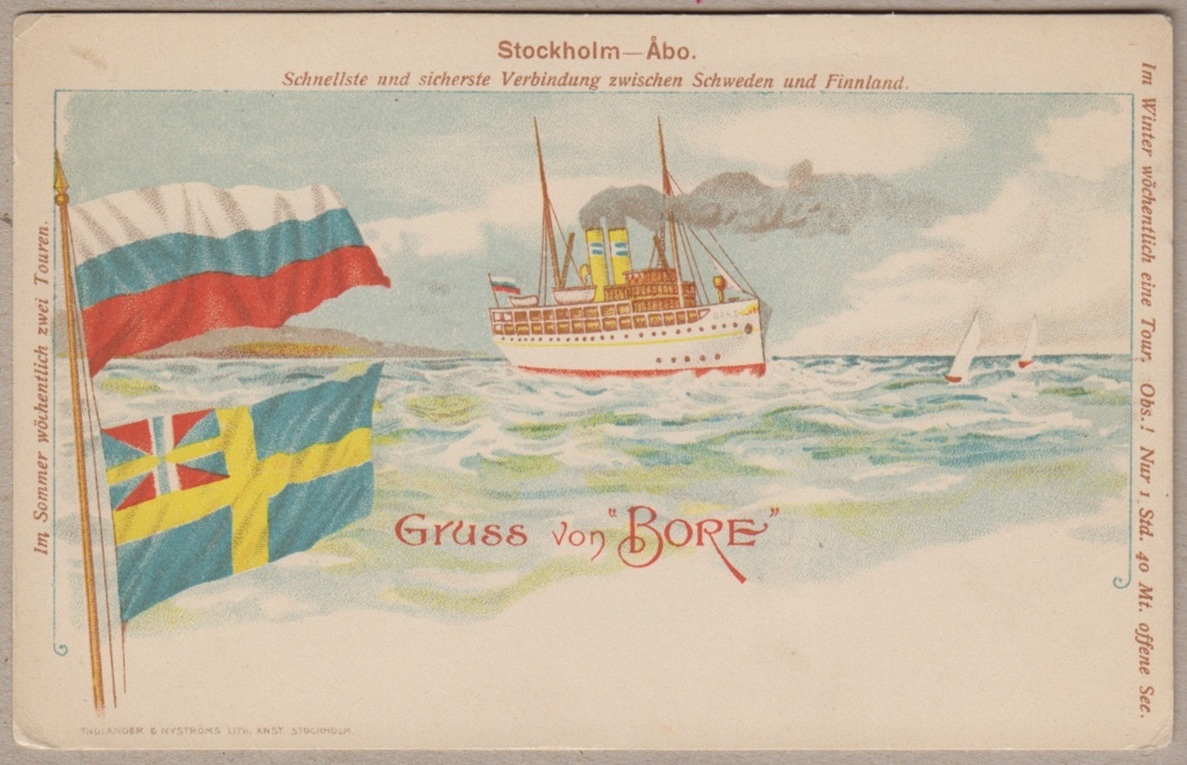 Postcard with German text "GRUSS VON BORE" The same card is found with Swedish or English text. Be aware many of the nice original Bore cards has later on been reprinted.




| | | |
| --- | --- | --- |
| 19. Jan. 1898 - 17. Feb. 1901 | BORE | Ångfartygs Aktiebolaget Bore |
| 1901 - 30. Jul. 1901 | BORE I | Bärgnings och Dykeri AB Neptun, Stockholm, Sverige |
| 30. Jul. 1901 - 20. Oct. 1916 | BORE I | Ångfartygs Aktiebolaget Bore |
| 2. Oct. 1918 - 12. Dec 1919 | GRIF | Russian Navy |
| 13. Dec. 1919 - 4. Dec. 1926 | HEBE | Finska Ångfartygs Aktiebolag |
| 4. Dec. 1926 - 25. Sep. 1961 | BORE I | Ångfartygs Aktiebolaget Bore |

Rute

Åbo - Mariehamn - Stockholm (29. Jan. 1898 - 31. Dec. 1899)
Åbo - Mariehamn - Stockholm (Dec. 1901 - Aug. 1914)
Helsinki (Helsingfors) - Reval - Kronstadt - Petrograd (15. Aug. 1914 - Jan. 1915)
Åbo - Mariehamn - Stockholm (Jan. 1915 - Oct. 1916)
Helsinki (Helsingfors) - Reval - Kronstadt - Petrograd (Oct. 1916 - 13. Aug. 1918)
Åbo - Mariehamn - Stockholm (4. Aug. 1919 - 6. Apr. 1950)
Mariehamn - Stockholm (summer 1953 - 23. Sep. 1961)




Bore I was not in route from April 1950 to summer 1953 due to another grounding at Åland on 6. April 1950.


Fakta om Fartyg
Faergelejet.dk
COASTERS & OTHER SHIPS REVIVED
Svensk olyckspost (Swedish Wreck & Crash Mail)
Maritime Disaster Mail by Norman Hoggarth and Robin Gwynn
Dampskibet Bore by Hans Urbak (Ruslandssamleren #41/2002 p. 2-13