Destinations
Not all equally scarce, but this site should take you to just about every part of the wold
I find postal items sent all around the world a facinating area to collect
---
Asia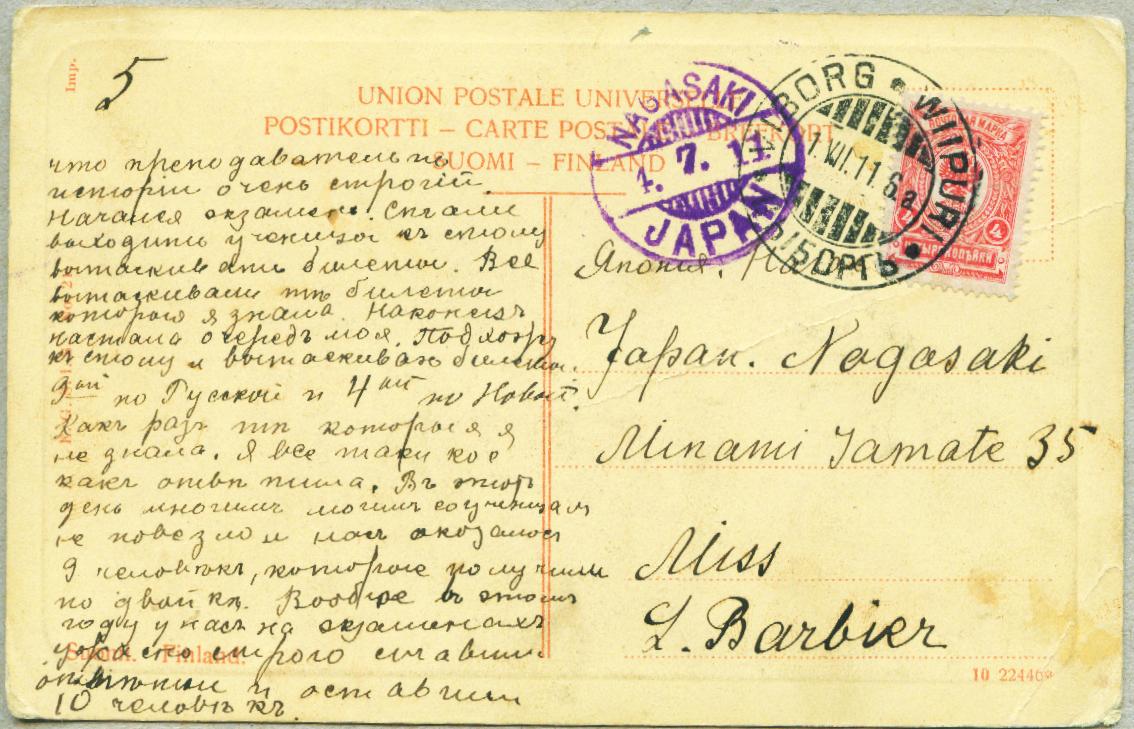 Japan: Card sent from Wiborg/Wiipuri 1.VII.11 to Nagasaki Japan arrival postmark dated (1)4.7.11
---
China: card sent to rev. in Finnish Missionary Soc. China in 1904 cancelled in Finland (TPO: Postilj.v. J-H only Russian Ю readable)
-> St. Petersburg -> Shang-Hai -> Shasi -> Chin-Shih
---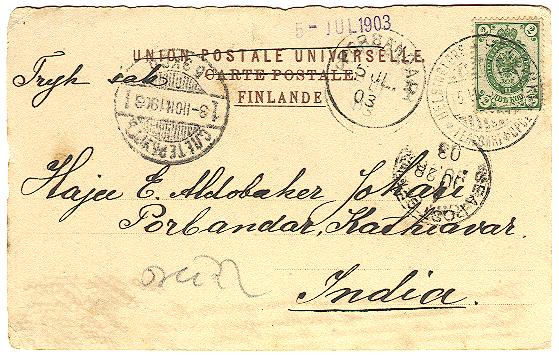 India: Printed matter Card sent from Helsinki 15. Jun. 1903 -> St. Petersborg 3. Jun. (Julian Cal.)
-> Sea Post Office (Brittish ?) 28. Jun. ->Porbandar, India 5. Jul. 1903
---
Philippines card sent from Pyttis 12.IX.1911, transit mark from Kotka - no transit or arriving marks
---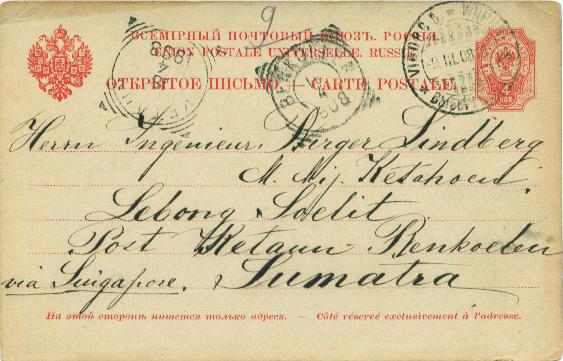 Sumatra - Indonesia: card sent from Wiborg B 9.III.08 via Benkoelea 16.4.1908 to Ketaun 18.4.1908 in Sumatra. card is endorsed 'via Singapore' but do not have any transit postmarks from here
---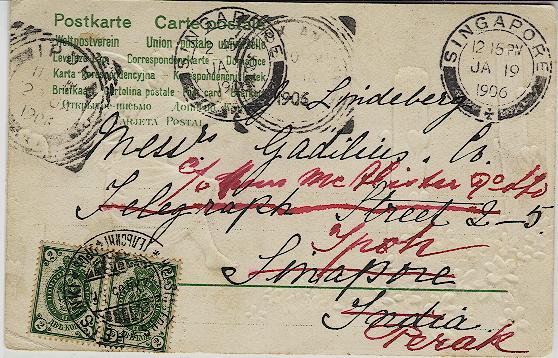 Malaysia: Card sent 22.XII.1905 from Helsinki to Singapore, India (?) re-sent to Ipoh, Perak province in Malaysia
---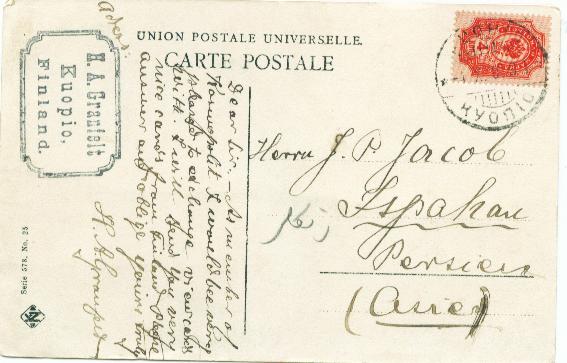 Persia - Iran card sent of H. A. Granfelt, Kosmopolit, from Kuopio 4.X.03 (or 1908) to Isphan in central Iran - no transit / arrival postmarks.
---
Down under:
---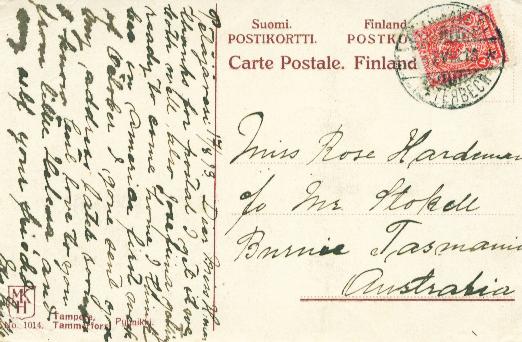 Tasmania: Card to Tasmania 4k stamp cancelled with unclear PETÄJÄVESI postmark dated 17.III.1913
---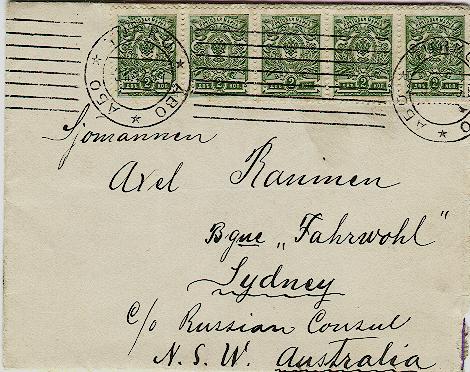 Australia: Letter to seaman Axel Raniselle on barge "Fahrwohl" sent from Åbo 3.II.12 to Sydney N.S.W. Australia, on rev. "English Mail N.S.W. Mar 1912"
---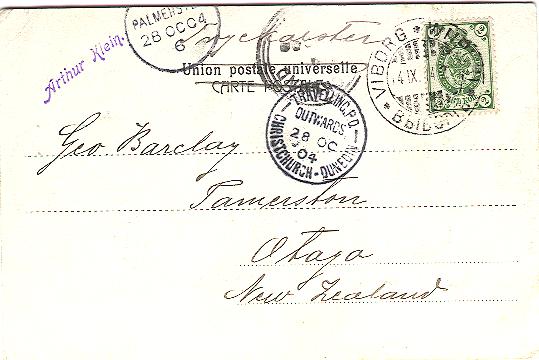 New Zealand:Printed matter card from Wiborg 14.IX.1904 - transit postmark that I cannot read TPO Christchurch-Dunedin 28. Oct. 1904 and arr. Palmerston same day
---
North America
---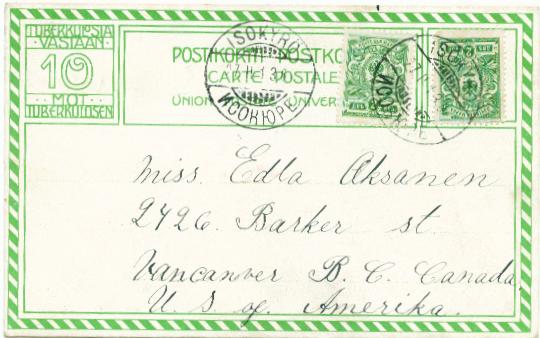 Vancouver Canada: Postcard sent from Isokuyrö 27.II.13 to Vancouver in Canada
---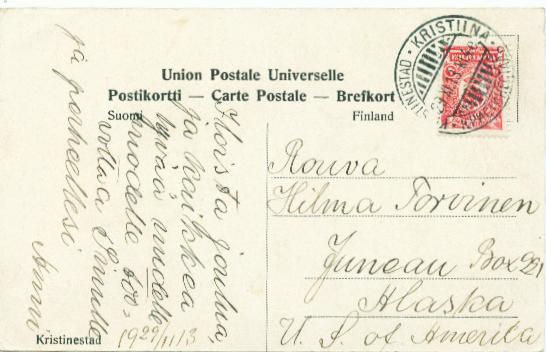 US - Alaska Postcard sent from Kristinestad / Kristiina 29. XI.13 to Juneau, Alaska
---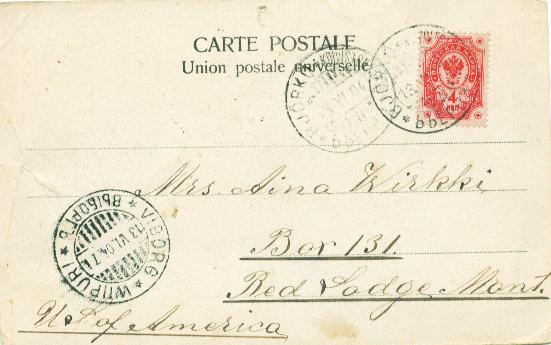 US - Montana: postcard from Bjorkö - Koivisto 13.VI.04 via Viborg Wiiouri 13.VI.04 to Redlodge Montana, no arrival postmark
---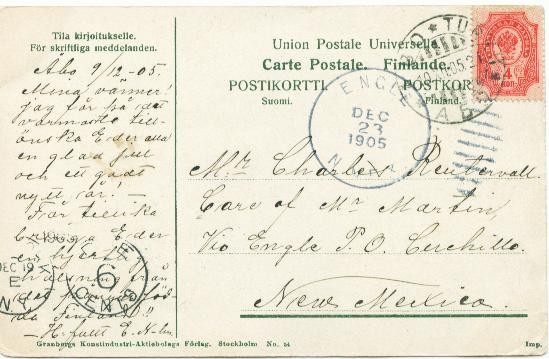 US - New Mexico: Card sent from Turku 10.XII.05 to Engle, New Mexico.
---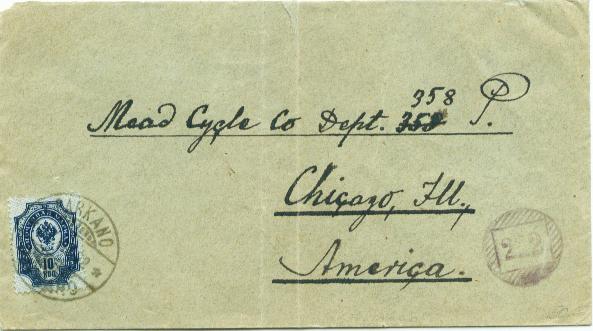 US - Illinois: Cover from Parkano 17. VIII. 02 and '222' numeral cancellation sent to Chicago Illinois arrival postmark on back Sep. 11 1902
---
Central America
---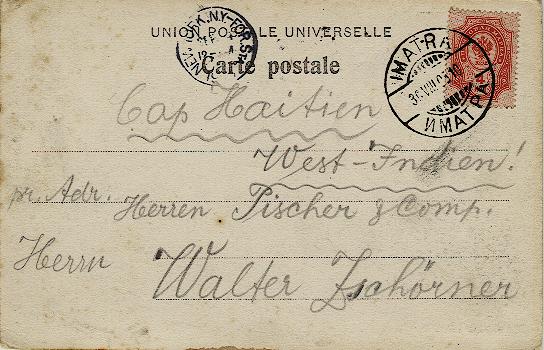 Haiti: Card from Imatra 30.VIII.05 via New York N.Y.-For.Sta. Sept. ?, to Cap-Haitien an Haiti - arr. pmk on picture side 5. Otc. 1905
---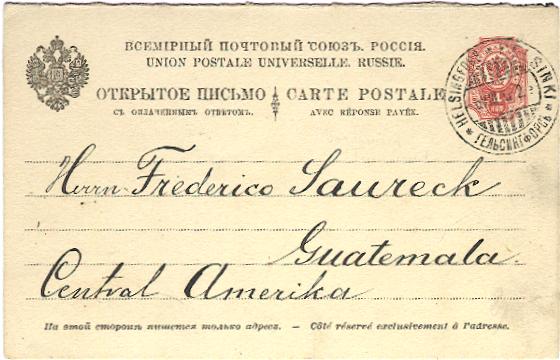 Guatemala: Message-part of Russian 4k double card m/1889 sent from Helsinki 6.VIII.1903 to Guatemala in Central America
---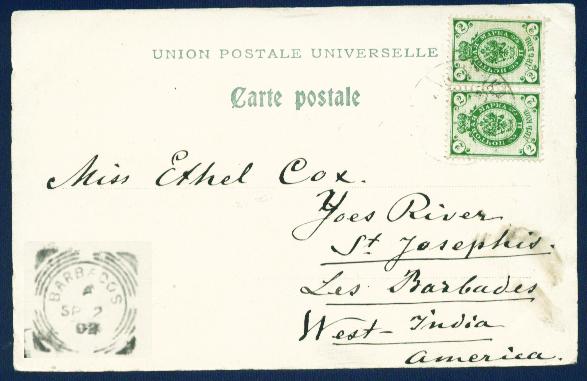 Barbados: Picture postcard sent from Helsinki 10.VIII.02 - arrival postmark from Barbados SP 2, 02 was placed on the picture side - I have copied it to address side
---
Cuba: card sent from Åbo / Turku 13. VII 1903 via St. Petersburg 1. VIII 1903 to Havana Cuba arriving JUL 30 1903 and forwarded next day Habana Cuba / 2D duplex postmark to Santa Spiritus
---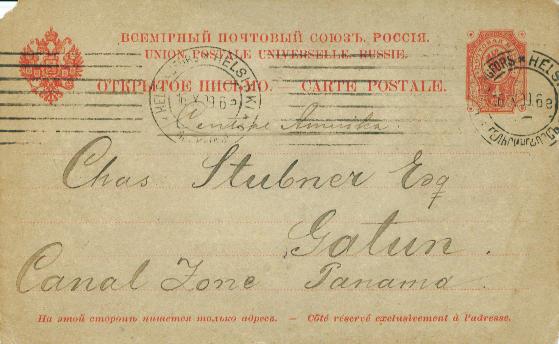 Panama: 4k Ring-type postal stationary sent from Helsinki 16.IX.09 to Canal Zone, Panama (Rich. Granberg)
---
South America
---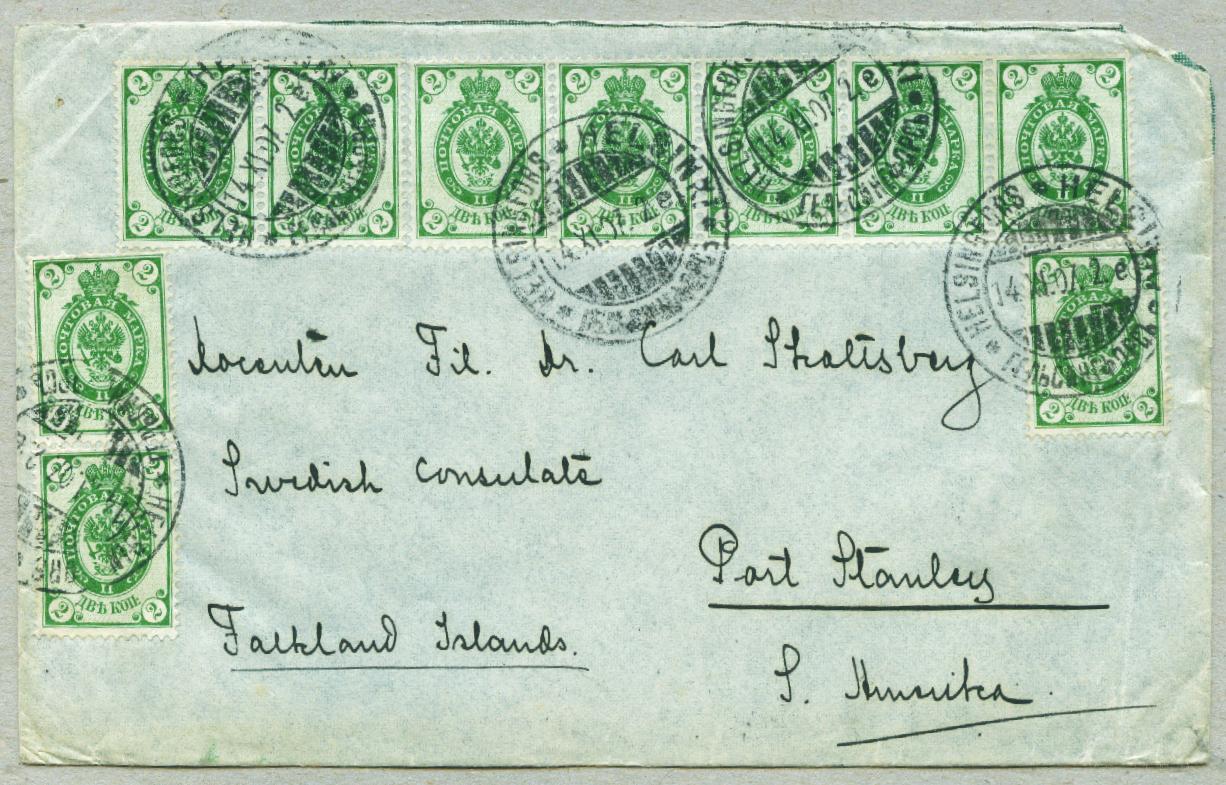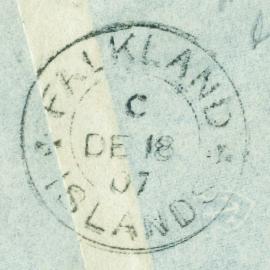 Falkland Islands: cover sent from Helsinki to Carl Skottsberg, Port Stanley, Falkland Islands.
Skottsbert (1 December 1880 ‑ 14 June 1963) was botanist and leader of the Swedish Magellan Expedition to Falkland Islands, and South Amerika in 1907-1909.
The expedition left Gothenburg 10th Sept. 1907 and first stop was Falkland Islands.
This cover was sent from Helsinki 14. Nov. 1907 and arrived 18 Dec. 1907.

<‑‑ arrival postmark on back of cover


---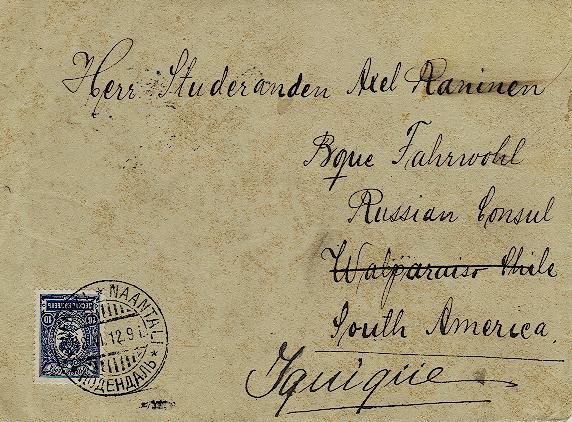 Chile: Letter from Nådendal 18.IV.12 to (Axel Raniselle) Walparaiso, Chile, (rev. pmk. 31.Jul 12) re-sent to Iquique (rev. pmk. 4. Aug..12)
---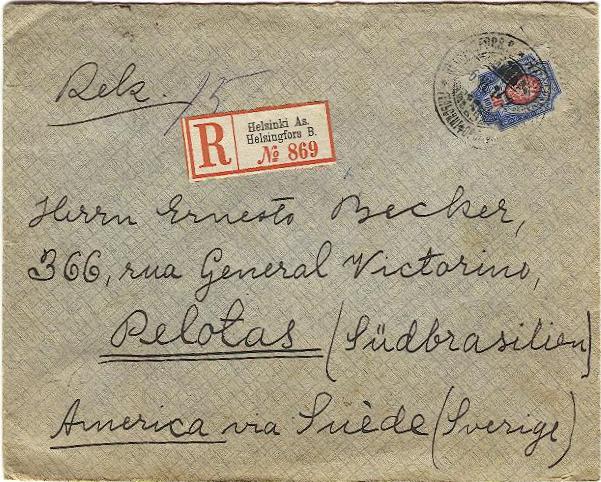 Brazil: Rec.-letter from Helsinki sent 6. VI.1914 to Pelotas South Brazil on reverse 2 Brazilian cancellations dated 13. Jul 1914
---
Africa
---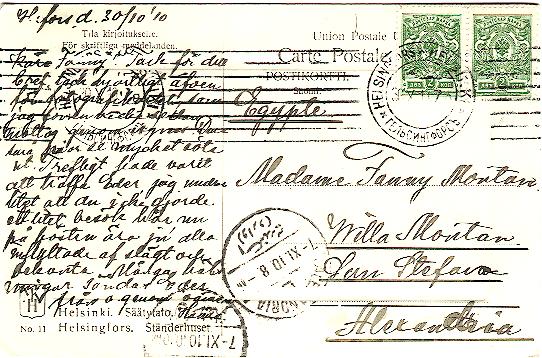 Egypt: Postcard sent from Helsinki 31.X.1910 to Alexandria in Egypt with arriving postmark from 7.XI.1910
---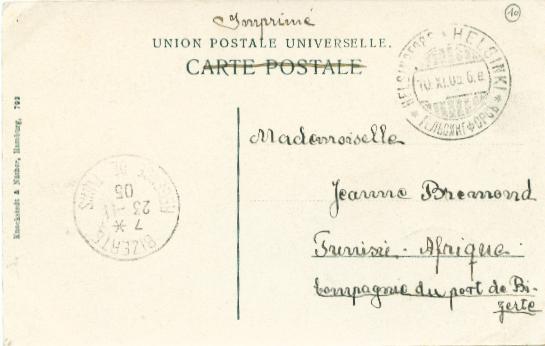 Tunesia: Postcard sent from Helsinki 10.XI.05 to Bizerte in Tunis 23-11-05, sent af printed matter with Russian 2 kop stamp on picture side of card
---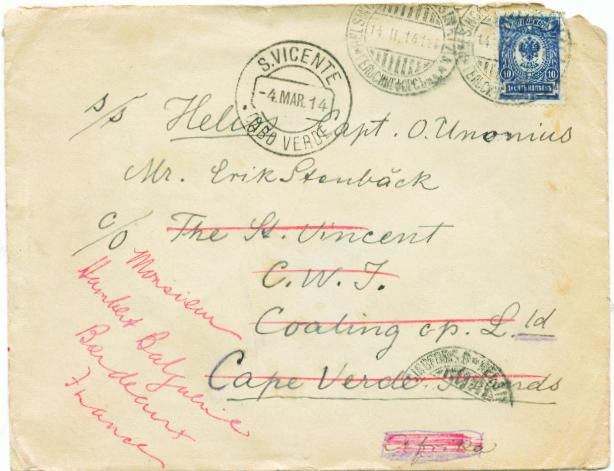 Cap Verde Islands: Cover set from Helsinki 14.II.1914 arrival postmark on back S.VICENTE CABO VERDE -1 MARC -14, forwarded S.VICENTE CABO VERDE -4 MAR. 14 to France, no French postmarks.
---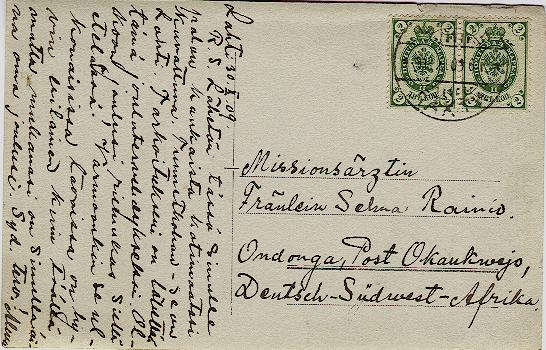 Namibia: Postcard from Lahti 31.X.1909 to Ondonga, Post Okauliwejo Deutsch-Südwest Afrika today Namibia - no arr. postmark
---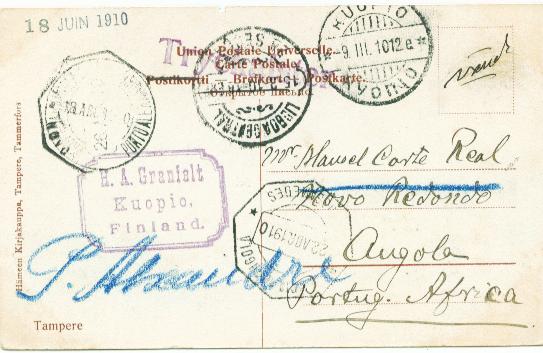 Angola: Postcard sent as printed matter from Kuopio 9.III.1910 via Lisboa Central 15-3-10 and then 3 'hard-to-read' postmarks from Portuguese Africa dated 18., 22., and Porto Alexandre 26. Apr. Card is addressed to Novo Redondo (since 1975: Sumbe) but forwarded to P. Alexandre
---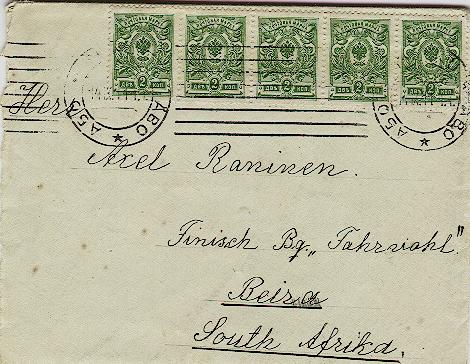 Mozambique: my 3rd letter to seaman Axel Raniselle on Finnish barge "Fahrwohl" now sent to Beira in Mozambique in South-east Africa. letter is sent from Åbo 14.IX.11 - no arr. postmark
---
Europa
---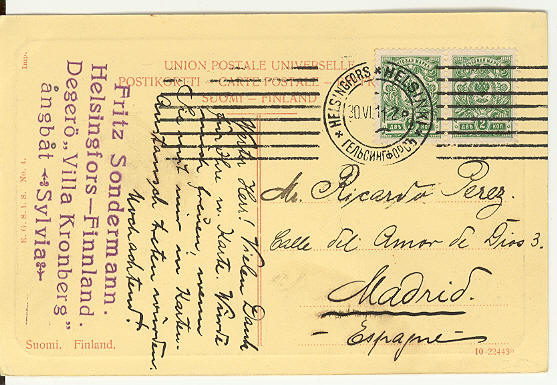 Spain: Postcard from Helsinki 30.IV.1911 to Madrid, Spain
---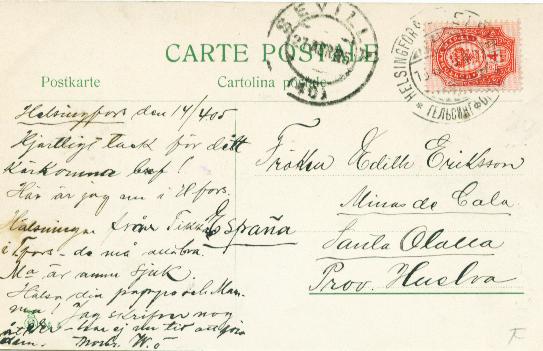 Spain - Sevilla: Postcard from Helsinki 13.IV.1905 to Santa Olalla, prov. Huelva, Spain; transit postmark from Sevilla 27. Apr. 1905
---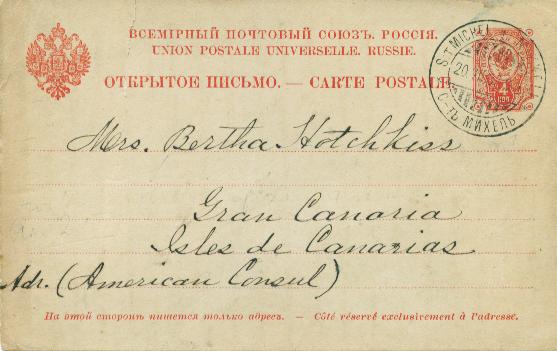 Spain - Gran Canaria card from S:t Michel 20.VII.1903 to the American Consul on Gran Canaria No arrival postmarks
---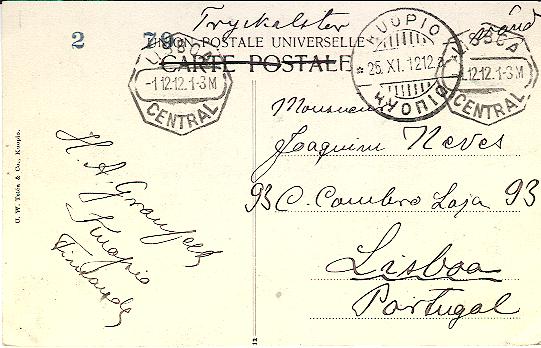 Portugal: Postcard from Kuopio 25.XI.1912 to Lisboa in Portugal arr. postmark from 1.12.12 - sender is famous Finnish philatelist H.A.Granfelt
---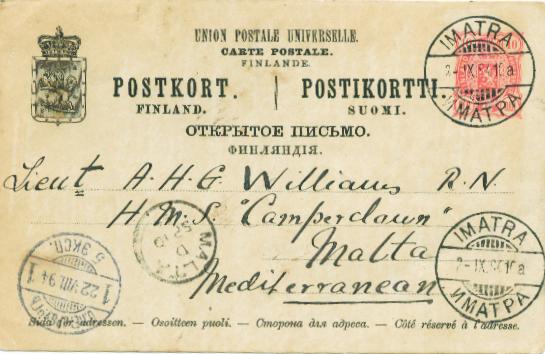 Malta: card from Imatra 2 IX 1894 via St. Petersburg 22.VIII. 94 to Malta arrival postmark reading: MALTA D SP 10 94
---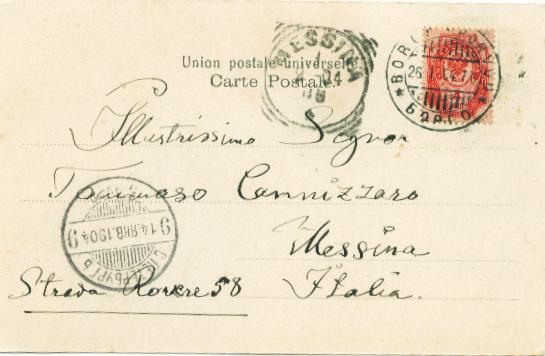 Italy - Messina Sicilia: postcard fraom Borgå / Porvoo 26 I. 1904 via St. Petersburg to Messina on Sicillia the date in the arriving postmark is a little unclear think it reads 1.2.04
---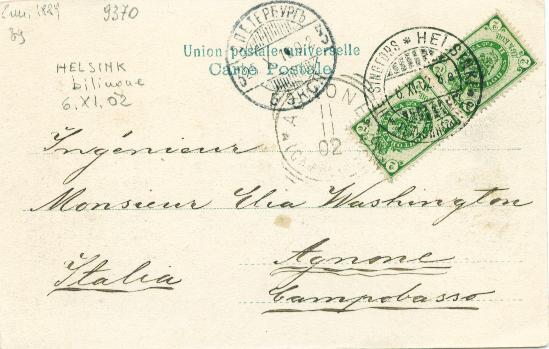 Italy: Postcard from Helsinki 6. XI.02 via St. Petersburg to Agnone i central of Italy
---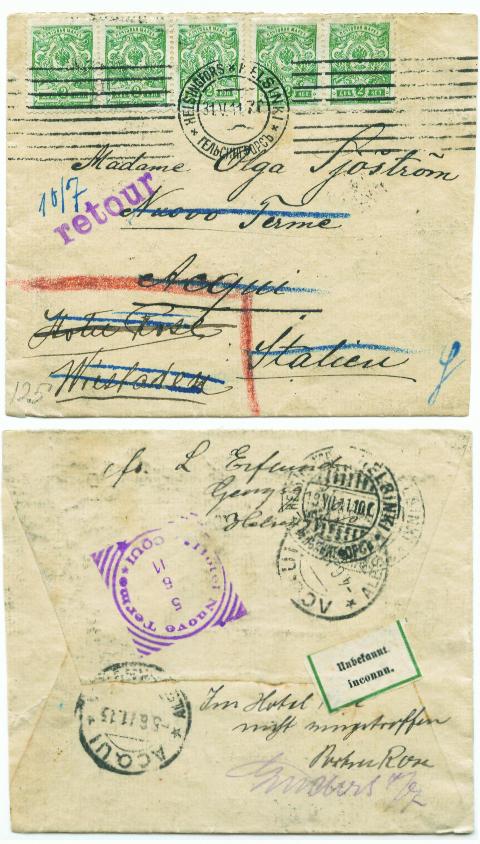 Italy - Acqui: Hotel letter from Helsinki 31.V.1911 to Hotel Rose or / and Hotel Nuove Terme in Acqui North western Italy. Acqui postmarks from 4th and 5th June and lillac hotel mark from 5th. 'Unbekannt Inconnu' label and German note: 'Im Hotel Rose nicht eingetroffen' with signature and date (7?)/7 - on front date 10/7 and 'retour' mark finally arrival postmark from Helsinki 13 VIII. 11
---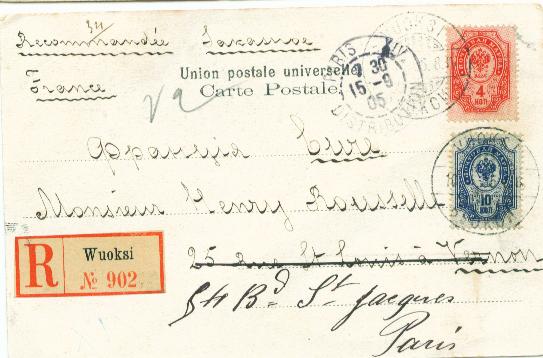 France: Picture postcard sent recommended from Wuoksi 10.IX.05 to Vernon in Normandie, France - forwarded to Paris with arrival postmark 15-9 05
---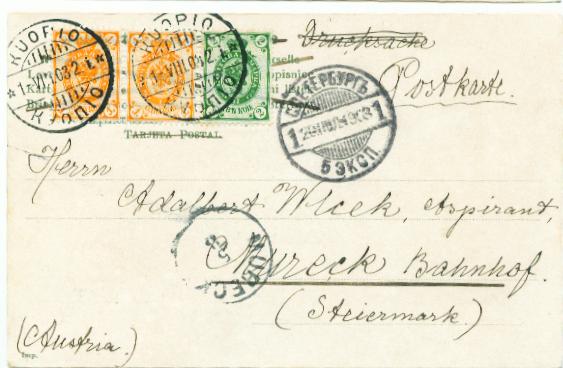 Austria: Picture postcard sent from Kuopio 1.VIII.03 via St. Petersburg to Mureck 5-8. Mureck is small town in south eastern part of Austria on the boarder to Slovenia
---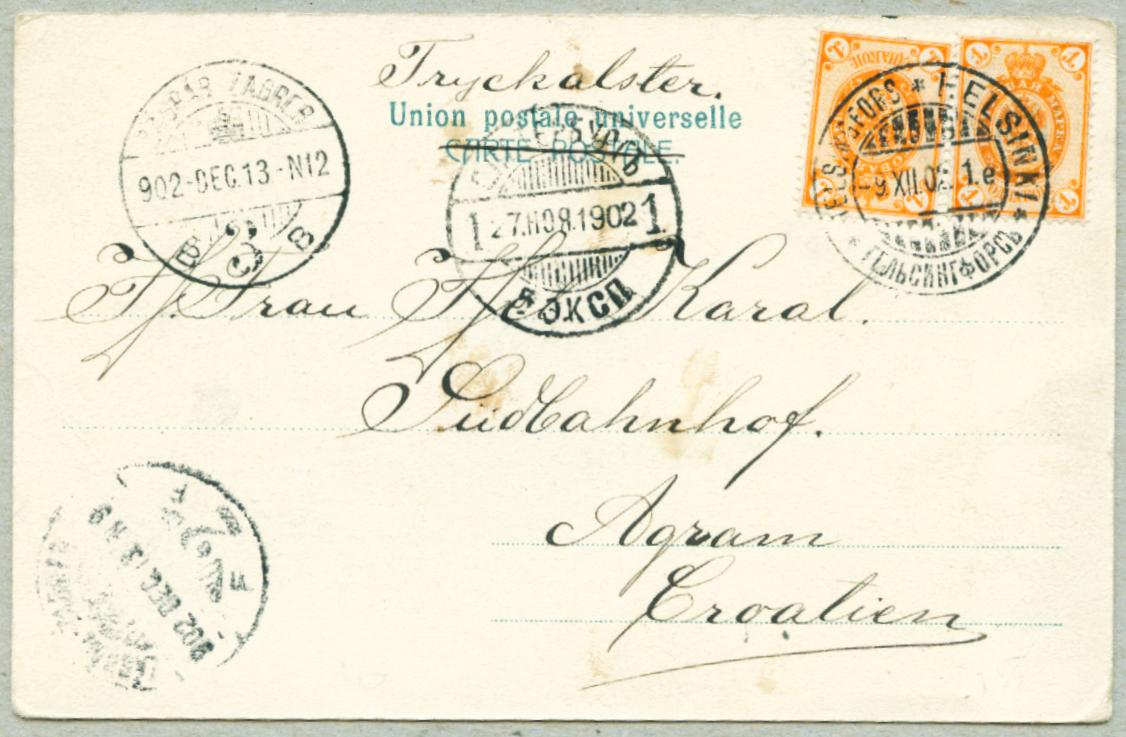 Croatia: Printed matter sent from Helsinki 9.XI.02 via St. Petersburg 27.XI.1902 (Gregorian calendar) to Zagreb 13.XII.1902 (German name: Agram)
---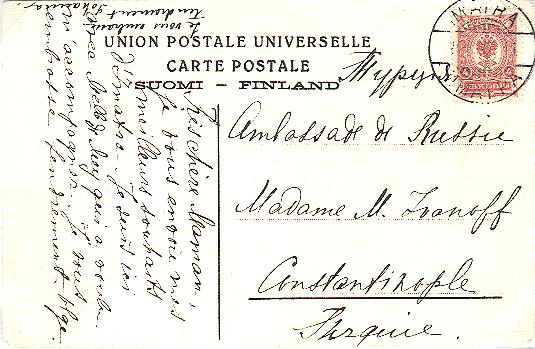 Turkey: Postcard from Imatra 20.VII.1912 to Constantinople, Turkey, no transit- or arr. cancelletion
---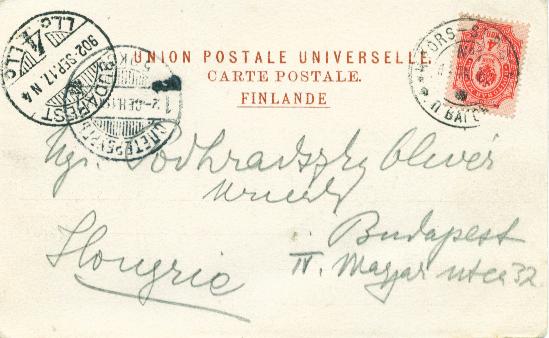 Hungary - Budapest: Postcard from Helsinki - stamp cancelled with Helsinki-St.Petersburg TPO 14.IX.02 arr. Budapest 17.SEP.1902
---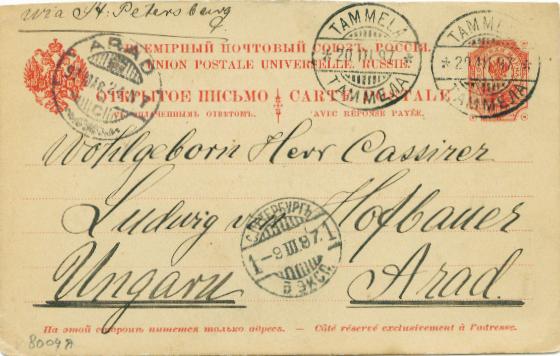 Hungary - Arad (today Romania): Postcard sent from Tammela 20.III.97 via St. Petersburg 9.III.97 to Arad 24.III. 1897. this is first half of doublecard (with reply paid)
---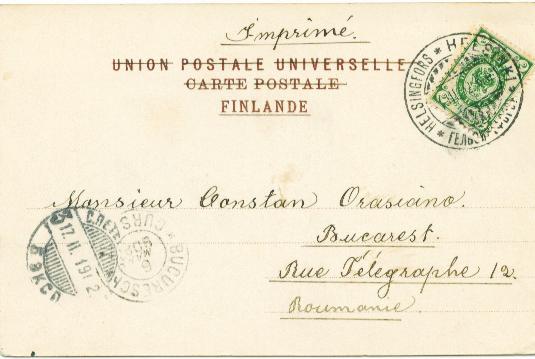 Romania: Printed matter Postcard from Helsinki 1.III.02 via St.Petersburg to Bucarest Romania arr. 6. Mar 1902
---
Czech Republic: Postcard from Turenki 28.VI.1901 to Prag, Czech Rep. blue arrival postmark 1. 7. 01 4 kop stamp on top of Finnish arms to hide this.
---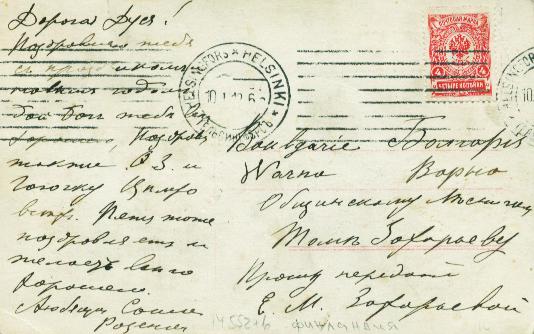 Bulgaria: Postcard from Helsinki 10.I.1912 to Varna, Bulgaria
---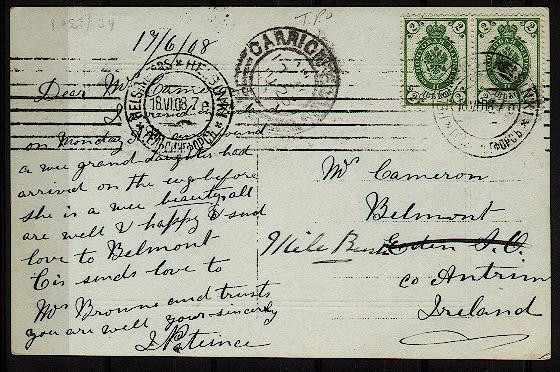 Ireland: Postcard from Helsinki 18.VI.1908 to Ireland with a arrival or transit postmark reading Carrick ??
---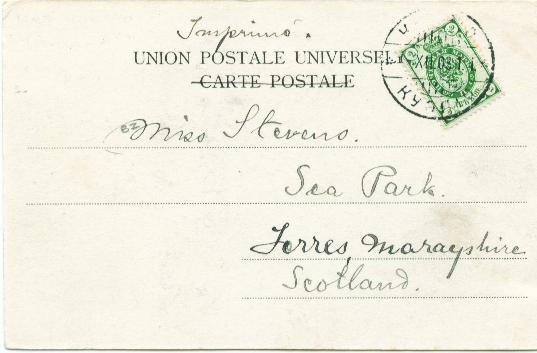 Scotland: Postcard from Kuopio 1.XII.03 to Scotland
---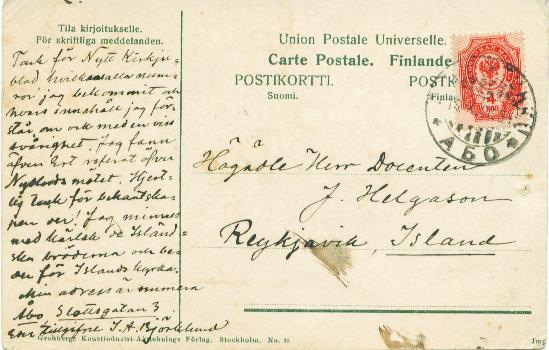 Iceland: Postcard from Turku 16.X.06 to Reykjavik, Iceland