Censorship in Finland during WW1
Helsinki - Helsingfors
September 1914 - January 1918

Forign mail both inwards and outwards were censored almost entirely at Tornio and Helsinki.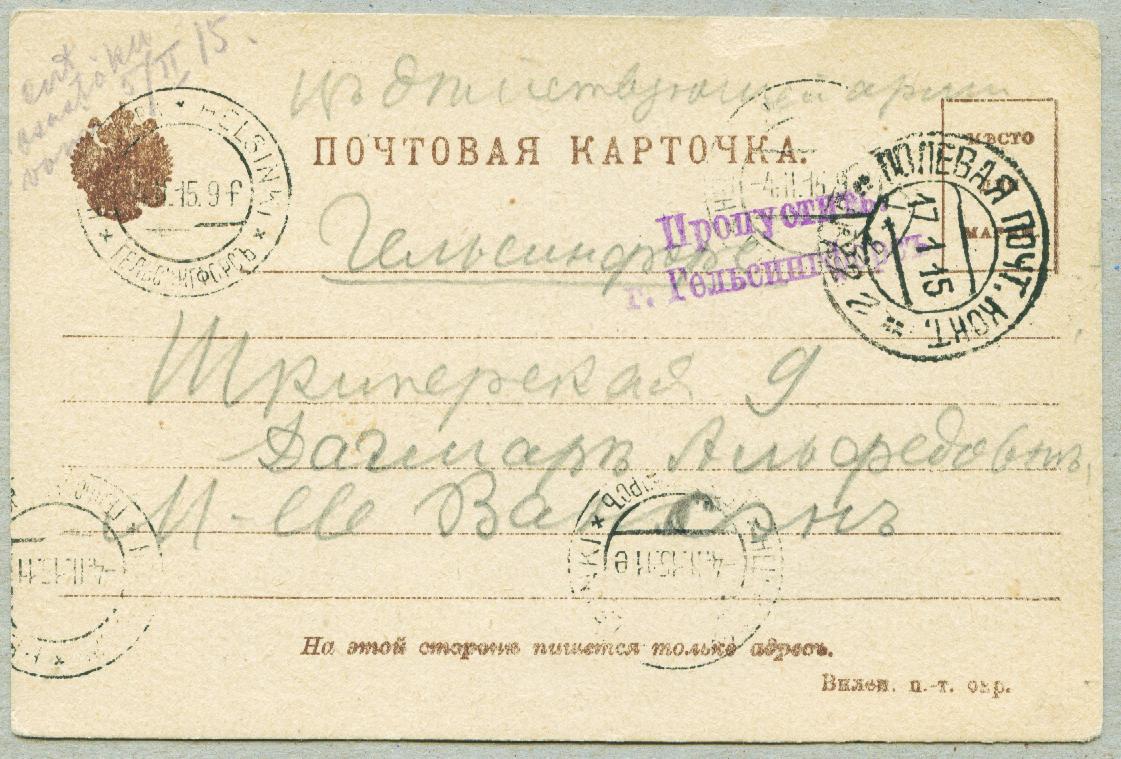 Helsinki Censor stamp nr 5 on fieldpostcard sent from Russia to Helsinki in February 1915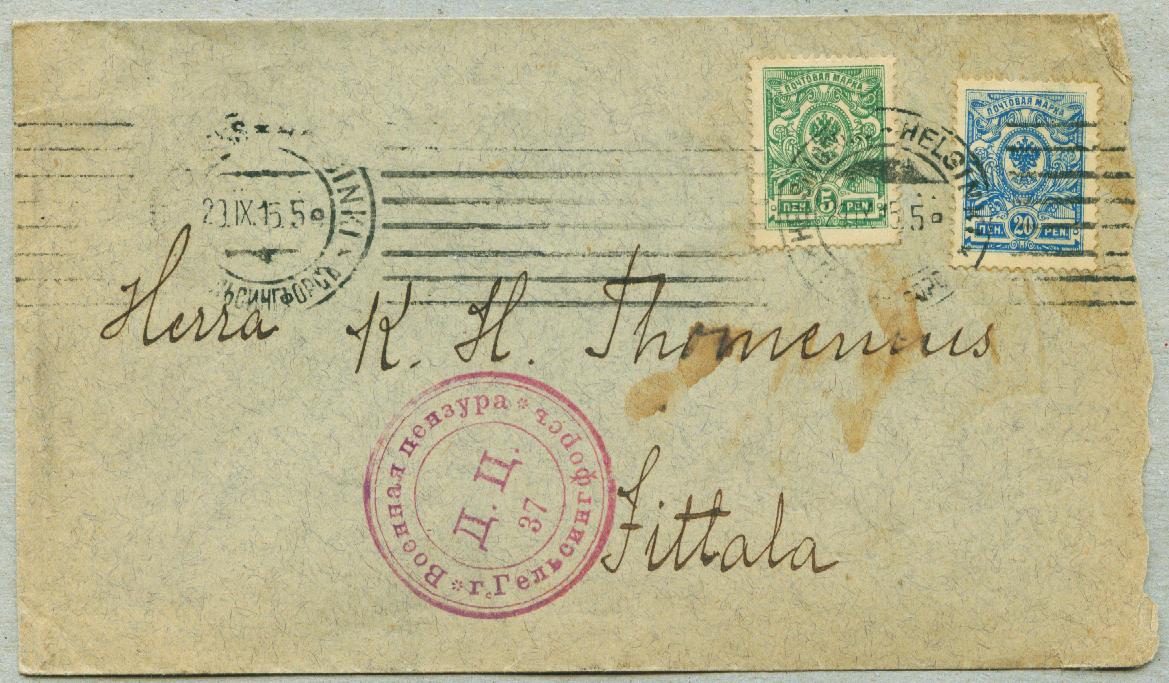 Censor stamp nr. 8 sub.type 37, on cover from Helsinki to Sittala in September 1915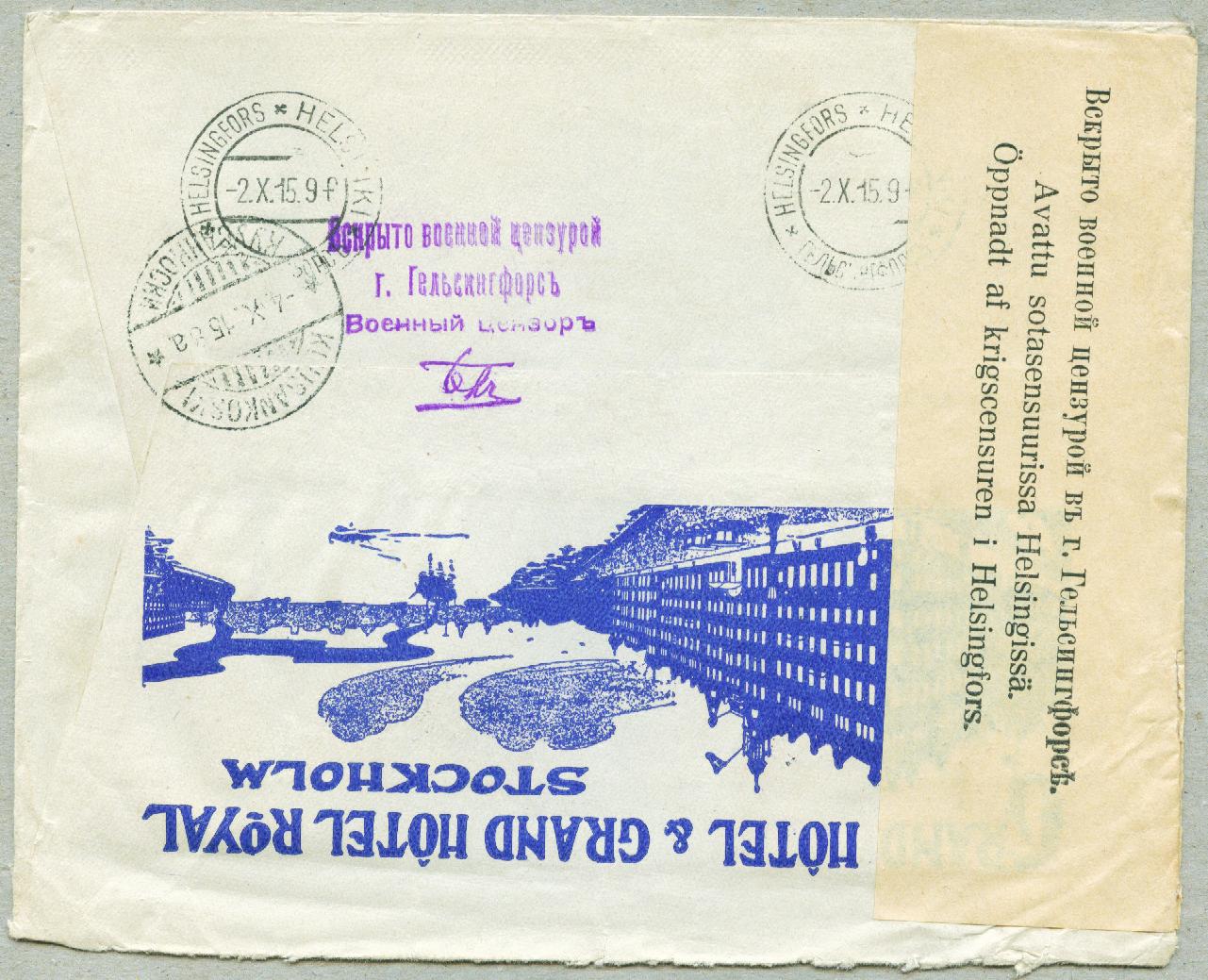 Cover from Sweden to Kuusankoski censored at Helsinki in October 1915. Censor tape nr 1 and censor stamp nr. 10.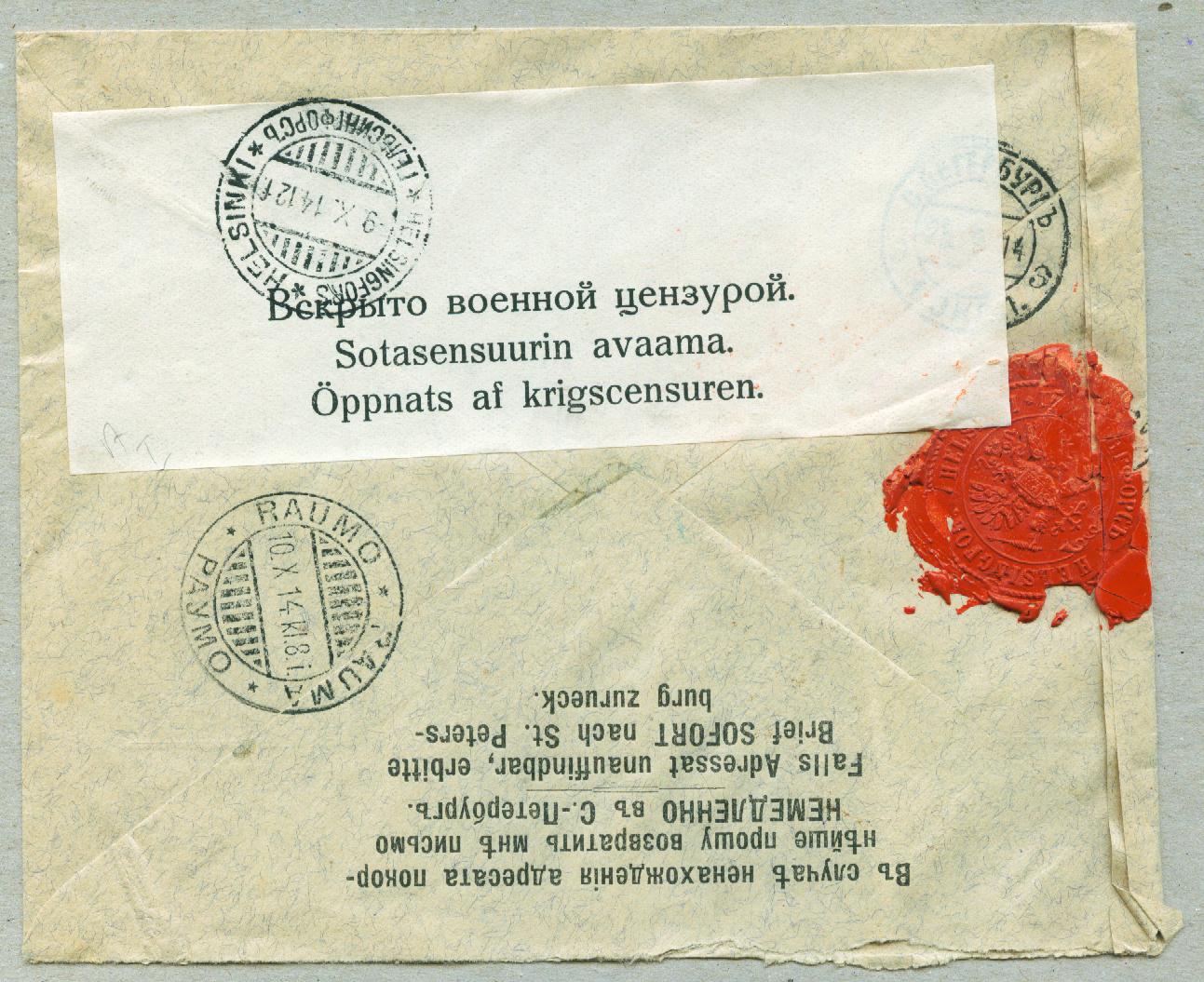 Cover sent from St. Petersborg to Raumo in October 1914, censored at Helsinki - censortape type A and a Helsinki wax seal




Helsinki Censor Wax seal
Helsinki Censortapes from WW1
1

94,5

69,5

78,5

dark blue

16-Nov-1914 / 24-Dec-1914

1

94,5

69,5

78,5

light blue

15-Dec-1914 / 31-Dec-1914

1

94,5

69,5

78,5

yellow

19-Nov-1914 / 04-Jan-1915

1

94,5

69,5

78,5

Red paper

21-Nov-1914 / 16-Dec-1914

1

94,5

69,5

78,5

Green

23-Nov-1914 / 29-Dec-1914

1

94,5

69,5

78,5

white

20-Nov-1914 / 02-Aug-1916

1

94,5

69,5

78,5

yellowish coarse

1

94,5

69,5

78,5

brown coarse w/u edgeline

1

94,5

69,5

78,5

brown coarse w/edgeline

1

94,5

69,5

78,5

yellowish white

1

94,5

69,5

78,5

brown smooth

2

99

64,5

72,5

30-Aug-1916 / 14-Jan-1918

2

99

64,5

72,5

12-Dec-1916 / 17-Sep-1917

3

73

61

69

white paper

13-Sep-1916 / 01-Dec-1916

4

59

49

56

white paper

08-Sep-1916 / 01-Oct-1916

5

100

65

73

white paper

26-Sep-1916 / 12-Sep-1917

6

99

64,5

73

white paper

10-Sep-1916 / 21-Jan-1918

6

99

64,5

73

lt. brown paper

09-Feb-1917 / 23-Apr-1917

Second "s" in "Helsingissa" is faulty.

7

68

49

54

white

2-Nov-1916/19-Nov-1916

7

68

49

54

yell. white

1-Nov-1916/06-Feb-1917

7

68

49

54

brown

16-Dec-1916

7a

68

49

54

white

02 or 05-Nov-1916

"krigsceesuren"

misspelled

8

94

59

67

white paper

13-Nov-1916

8

94

59

67

yell.white paper

24-Aug-1917/08-Jan-1918

9

90

65

73

white paper

09-Okt-1916/07-Oct.1917

9

90

65

73

yell.white paper

06-Dec-1916/26-Nov-1917

10

93

60

68,5

yell.white paper

9-Jul-1917/14-Jan-1918

11

12

90,5

70

80,5

white paper

22-Oct-1917/25-Jan-1918

CT-12: Circular O in Ö(ppnadt)

12

90,5

70

80,5

yell.white paper

21-Oct-1917/27-Jan-1918

13

70

53

60

white paper

8-Sep-1917/13-Jan-1918

14

69

54

61

white paper

19-Feb-1917/__-Aug-1918

14

69

54

61

yell.white paper

02-Apr-1917/04-Jul-1918







above CT-13 and below CT-14